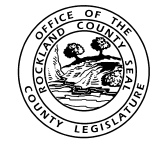 New City, September 24 — The Rockland County Legislature passed legislation this week restricting the County Executive's ability to fill vacant positions without a prior review and discussion by the legislature. The legislation, introduced by  Chairperson Harriet Cornell and Vice Chairman Alden H. Wolfe, was unanimously approved by the legislature. The vacancies represent positions throughout county government including departments of Social Services, Hospitals, Mental Health and Probation.
These opening were created by the 2010 New York State Early Retirement Incentive Program (ERI III) which resulted in 196 county employees opting to retire by December 2010. The 40 current vacant positions have been transferred to a contingency fund.
Rockland County Legislature Chairwoman Harriet Cornell says she has been working with the NYS Comptroller's office and private sector experts to garner outside advice on the county's fiscal crisis.
'€œMost of these positions have been vacant for almost a year," said Legislator Alden Wolfe. "If we're going to have a serious dialogue about reducing the size of government and doing more with less, this move was an absolute necessity,'€ he said.