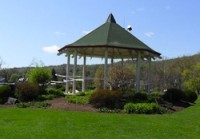 We, the undersigned, would like to give our endorsement to Nyack Mayoral candidate Jen White in the Democratic Primary on September 13th.
We are a group of parents, teachers and children's advocates who have been involved with helping kids for years.  We can tell you, without reservation, that long before she sought elected office, Jen has been dedicated to the well being and improved circumstances of children in our community.  While not all of us live in Nyack, we are all involved with the children of Nyack.
Whether building the Children's Garden at Upper Nyack Elementary School, creating park programs that teach kids about nature and science or raising funds for a Kids Gardens in Memorial Park, Jen is tireless in her desire for all children to have a hand in nature.
By helping to encourage and establish rowing, boxing and other athletic programs for kids, Jen champions the needs of all of the children in our area, rich, poor, young or almost ready to become adults. Jen works overtime to improve circumstances of all of our youth.  Her ideas for kids seem endless and instead of just talking about it, Jen rolls up her sleeves and makes it happen.
Nyack would be lucky to have Jen White as Mayor.  The kind of dedication to children and families she has shown for years can only benefit the wonderful community we share.
Thank you so much.
Diana Cutt
Adrienne DiBlasi
Laura Graham, former PTA president
Annie Hekker Weiss
Mary Johnson, Nyack Plaza Activist
Paul Lazarus
Michael Leifer
Jen Marraccino, former PTA president
Minerva Parker
Salehudin Rahim, Nyack Plaza Activist
Vanessa and Marcelo Reggiardo
Kathy Sestak
Photo: Gazebo at Memorial Park in Nyack Credit: NyackBackYard.blogspot.com