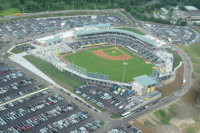 by Cliff Weathers
The New York State Comptoller's office has issued a draft audit that blasts that the Town of Ramapo for inappropriately financing a $38 million baseball stadium, according to a report obtained by The Journal News.
The audit goes on to say that the town will have a difficult time paying for the stadium–now called Provident Bank Park–which currently hosts the Rockland Boulders semi-professional team. It goes on to criticize Ramapo for poor fiscal planning overall and that recent budgets have depleted more than $4 million from the town's reserve fund.
According to the Journal News, the town has a month to address the audit's conclusions. After that time has passed, the Comptoller's office will publicly release its final audit and conclusions.
Ramapo Town Supervisor Christopher St. Lawrence is disputing the findings in the draft and has previously claimed that the profits at Boulder's baseball games will cover the costs for the numerous multi-million-dollar loans and will even generate a profit for the town.
"This preliminary draft report is fraught with factual errors, misstatements of law, startling misunderstandings of Internet technology, and unsupported inferences," St. Lawrence said in a statement Friday.
"We trust that these many material deficiencies in the report, which will be detailed in our comments that we are now preparing for submission to the comptroller, will be corrected before a final report is released," he added.
The Rockland Boulders may not have drawn not enough fans in its inaugural season at Provident Bank Park to be sustainable, but public records are hard to come by.  Attendance, observers have noted, may be well below the 2,000 per game average estimated to turn a profit. Civic organization Preserve Ramapo is trying to obtain attendance and concession information through Freedom of Information Act requests.
Cliff Weathers publishes the political and community affairs blog, Left Of The Hudson.
Photo Credit: Rockland Boulders