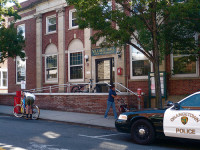 by John Shields
I am writing on behalf of three former Mayors of Nyack — Terry Hekker, Nancy Blaker Weber and myself — to endorse Jen White for mayor in the 2011 election.
OFFICIALLY, the Village of Nyack position of mayor is part-time.  However, at this critical point in time it is our opinion that we need someone who is available to take care of daily village business, such as meeting with police, merchants and community groups.
These meetings typically usually take place during the day.
In addition, recent catastrophic events, such as the flash flooding, in July, affecting downtown Main Street and Catherine Street, resulted in damage and hardship for residents and merchants.  This pointed up the need for an executive who is able to respond quickly.  Jen was there.
For these reasons, we strongly endorse Deputy Mayor Jen White for mayor in this 2011 election.  In addition to her availability for daytime meetings and emergencies, she is also available, and has traveled to Albany and Washington, DC, to obtain recognition, support and funding from our elected officials.
She has successfully obtained grants for Main Street beautification, funding for an improved Memorial Park, and repairs to the devastated Nyack Marina.  Many of these projects are now in the early stages, and are expected to begin implementation in late 2011 and 2012.  Jen has also established a PAL boxing program for youth in the village, which will begin in late 2011.
Ms. White spearheaded hiring a village manager '€" a move I strongly opposed (although my fellow former Mayors supported the idea).  However, I was proven wrong.  Our manager has worked diligently, and has successfully streamlined village operations, saving Nyack major expenses, which has resulted in the smallest tax increase in years '€" just 0.96%.
For these reasons, it is essential to have Jen White in Village Hall.  Terry Hekker, Nancy Blaker Weber and I all agree: Jen White should be Nyack's next Mayor.
Sincerely,
John Shields, Terry Hekker and Nancy Blaker Weber
Nyack, NY