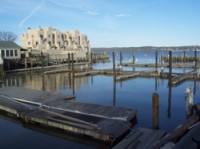 Nyack, Sept 10 — There's a ribbon cutting down by the river on Saturday morning, marking the opening of a new "Eco-Dock," providing the public with state-of-the-art  recreational access for non-motorized boats like rowing shells, kayaks, canoes, and paddle boards. The 11a event takes place in the Nyack Marina coinciding with the River Rowing's Third Annual 25K Hudson River Challenge.
The development of the new public dock is a legacy project from the 2009 Hudson-Fulton-Champlain Quadricentennial celebration. '€œThe dock will be a huge help in improving our community rowing programs and for encouraging greater use of the Hudson by rowing, kayaking and canoeing enthusiasts,'€ said RRA President Ivan Rudolph-Shabinsky.
The Eco-Dock was constructed with a 3-1 matching grant from the state of New York. The $150,000 project was funded by $100,000 from New York State and about $50,000 contributed by the River Rowing Association.