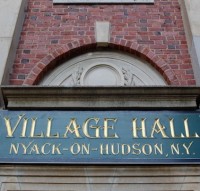 Nyack, Sept 14 7a (updated) — Village Trustee Jen White won the Democratic nomination for mayor last night defeating incumbent Richard Kavesh by 113 votes (13%). Kavesh, serving his first two year term as Mayor of Nyack, received 359 votes to White's 472. White was elected with 56% of the 839 votes cast according to Rockland County Board of Elections unofficial results.
"I called my good friend Jen White last night to congratulate her on a hard-fought and well-earned victory,'€ said Kavesh.  "While it's disappointing that only about one-third of Nyack's Democrats exercised their precious right to vote, I do want to thank everyone in Nyack who went to the polls yesterday."
Both candidates will meet again in November as they have each secured separate lines to appear on the general election ballot. Because Nyack is a heavily Democratic village, there is a strong probability that the winner of the Democratic Primary will succeed in the November general election. "I will be on the November ballot on the Independence, Working Families, and Preserve Nyack lines and look forward to a positive, substantive, and issue-oriented contest,'€ said Kavesh.
Robert Dell and Elijah Reichlin-Melnick will be the Democratic candidates for the Orangetown Town Council. Gerald Bottari's bid to finish in the top two places fell short by only four percentage points (152 votes out of 3636 cast) .
In Rockland County races, Lou Falco defeated Tim O'Neil in the Sheriff's race 58-42%. Sheri Eisenpress will be Democrats' choice for Family Court Judge in the general election having garnered almost half of all votes cast in a field of four.
Source:  Rockland County Board of Elections
See also: Laird White wins Nyack Mayoral Primary, Left Of The Hudson blog, 9/13/2011