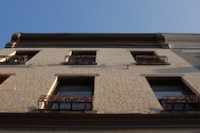 by Victoria Fedden
We stopped because the traffic wasn't even at a crawl. It was a parking lot and we were starving and the exit was right there so I said, just get off here because at least I know where to go. I think. I think I still remember, because how long ago was 1989? But secretly it was because I wanted to go back, to see Nyack again because I never wanted to leave in the first place and I've been mad at my parents for dragging me to Florida since I was fifteen.
I don't know what I thought it would be like. Maybe I believed that everything had been perfectly preserved when I left, the way grieving parents will keep the bedroom of a dead child and turn it into a sort of shrine. I did that with Nyack, but the shrine was in my head – a quaint and glossy museum image of a town, made more perfect by the imperfections of memory and wrapped neatly in one of the many drawers of my brain.
It's not the same of course. Yes, much has changed, but at the same time I wonder now if it's just that I viewed things differently at fifteen and the things that thrilled me back then don't anymore.
Nyack, New York is still a lovely little town on the steep banks of the Hudson, but it's no longer a home for which I desperately yearn. I thought I did, but I don't. My ghost no longer lingers on the corner of Main Street and Broadway. I'm not there anymore.
The town looked shabbier than I recall. It's much more urban than I remember and looks crowded. Much of the Northeast looks as if it has outgrown itself and Nyack is this way too, like it was too small to contain the people and the cars, the stores, yoga studios and organic food co-ops. I saw a cluster of teenaged boys gathered on some steps and I thought they looked greasy and vagrant. Did we look that way twenty something years ago? We couldn't have. My favorite pizza place was on the same corner and we stopped in for a slice, but what the hell? Who decided that penne pasta and Buffalo chicken were acceptable pizza toppings? At least the plain slices were still perfect.
I've spent twenty-two years bitter and regretful about moving to Florida. I've wasted hours wondering what my life might have been like if we'd never moved, mistakenly imagining it to have been the better life, the perfect life thwarted. I got the life I was supposed to have.
And finally, I have the closure I needed.
Victoria Fedden, a writer and college writing instructor who loved living in Nyack in the late 80s, now resides in Ft. Lauderdale, Florida with her husband and baby daughter. She writes the blog Wide Lawns and Narrow Minds about her life and living in South Florida.