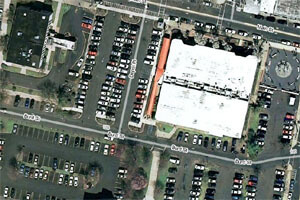 Nyack, August 16 — Nyack is studying two different proposals to develop the space now occupied by Riverspace, the strip mall on Main Street and the adjacent parking lots. The plans are in response to Request for an Expression of Interest (RFEI) released in June.
Project consultant HR&A Advisors will analyze the proposals and submit recommendations to the Main Street Partnership, the joint venture of the Village of Nyack and Riverspace, Inc. to study redevelopment options for the downtown "Superblock" currently occupied by the Riverspace theatre and the M&T Bank. The Main Street Partners will then determine what is required to make the project financially feasible including the federal and/or state subsidies likely necessary to offset the infrastructure, cultural arts, and parking elements of the plan.
Two detailed proposals were received from nationally-recognized real estate development firms. The RFEI called for a design that includes approximately 100 residential units onsite, ground floor retail, new public open space and newly constructed cultural arts and educational facilities. Both proposals include plans for cultural arts facilities of 30,000 – 38,000 square feet in size, which is at the upper range of the sizes being considered for onsite cultural use. Village officials hope to make a decision on whether to move forward and which proposal to consider by the end of September.
See also: