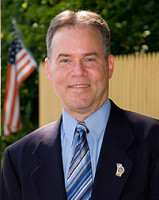 The Port Authority plan to raise tolls on the George Washington Bridge is '€œa duplicitous effort that only serves to penalize working class people'€ according to Rockland County Legislator Ed Day (New City-Pomona). Day is asking New York Governor Andrew Cuomo to veto a new toll schedule which would double the toll for crossing PANY/NJ bridges and tunnels.
According to Day, the proposed increases for EZ Pass users would immediately jack up peak tolls by 50 percent from $8 to $12 and off peak tolls from $6 to $10. "I do not know what planet the Port Authority's Board of Commissioners is living on, but clearly their concept of shared sacrifice is for the Port Authority to take a full share of everything we sacrifice.'€
The Port Authority has also proposed expanding peak period fares from to 6 to 10 a.m. and 4-8p weekdays and 11a to 9p on weekends.
The PANY/NJ will be voting on this proposal on August 19th, after which it will be forwarded to both Governor Cuomo and New Jersey Governor Christie. Both governors must act upon the request within ten days.