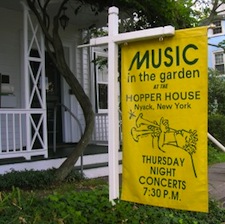 by Jocelyn Jane Cox
The Chris Pasin Quintet plays tonight at 7:30p in the Music In The Garden series, featuring free jazz performances in the backyard of the Hopper House Art Center in Nyack. The annual summer series wraps up next week on 8/18 with Tommy Goodman and Friends featuring vocalist Fran Friedman.
Last Thursday night was temperate and clear, perfect for listening to live music outside at the Hopper House Jazz concerts, held in the cozy backyard of the Hopper House museum. The group onstage was Don Falzone and the August Quartet, and it was exactly as fantastic as I expected.
Here are some personal highlights:
Experiencing a pang of self-consciousness about the lawn chairs even though they are recommended on the website. They're so clunky to carry — what if we were the only ones who had them?
Dining on dee-lish tomato and bread salad with basil and mozzarella, made from ingredients procured at Nyack Farmer's Market earlier that day. (Thank you Chef Sara!)
Cicadas harmonizing along with the August Quartet's version of George Harrison's '€œWhile My Guitar Gently Weeps.'€
Watching the musicians' facial expressions as they played: they gave the distinct impression that they enjoy what they do.
Awkward moment: construction in the yard next door increasing in volume as the quartet played a soft, original composition called, '€œCocoon.'€ Hard to say whether or not the workers knew there was a concert on the other side of the fence, (and the way I look at it, this is the risk of an outdoor venue) but it was unfortunate that it was interrupting the musicians. As the sound of running motors and crashing equipment got louder, audience members looked around at each other like, '€œReally?'€  It seemed as if maybe someone asked them to stop and they did, but they made sure to honk on their way out.
Dogs in the surrounding neighborhood adding their own two cents and lights in the surrounding houses beginning to twinkle as night fell.
Looking up at the stars through the trees, tapping my foot to the beat, and thanking my good fortune: you gotta love Summer in Nyack.
There are only two more concerts left this season: August 11 and August 18, 7:30 pm. I highly recommend.
Jocelyn Jane Cox is a local freelance writer and figure skating coach who writes TheHomeTome.com, a home and humor blog with a Nyack slant.