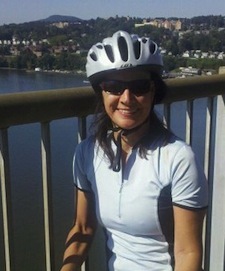 by Anne Bari
When my mother was diagnosed with cancer in 2008, I wasn't strong. I needed support and an outlet for the difficult emotions I was experiencing. I found both through the LIVESTRONG Foundation.
I participated in the LIVESTRONG Challenge biking event the year that my mother was diagnosed with cancer and in subsequent years after her passing. I love the energy that surges through the participants and the volunteers at these events and wanted to bring that same experience to our beautiful Lower Hudson Valley.
On September 11, 2011, we are going to do just that. The first annual Mountains and Bridges cycling challenge will be held at Bear Mountain State Park on September 11, 2011 to benefit the LIVESTRONG Foundation.
Virtually everyone has a friend or a family member that has been touched by cancer. LIVESTRONG is dedicated to studying the experiences of the cancer community, identifying problems and promoting solutions. It's an amazing organization, coupled with both a stunning mantra of "LIVESTRONG" and a phenomenal group of people comprising it. LIVESTRONG is a community of strength.

Renal metastatic cancer took my mother within a year of her diagnosis. In many ways, she epitomized what LIVESTRONG is about. When she learned her prognosis, she responded with grace and poise, demonstrating an amazing display of strength in the face of this bully. Cancer may have taken her life, but it did not take her dignity. My father, too has practiced the LIVESTRONG mantra, caring for and lost both his wife and brother, who passed from pancreatic cancer, about 6 months apart. My father's endurance through this time is evidence that he is the cornerstone of strength for our family.
Please join us on September 11 at Bear Mountain in this show of strength and support for the extended community that has been touched by the scourge of cancer. For more information on routes and registration, visit MountainsAndBridges.com.