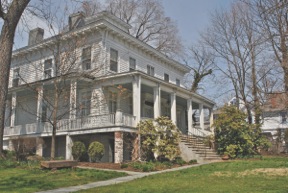 The Historical Society of the Nyacks has reopened its headquarters at DePew House following damage to its carpet in the flood in late June.  Fortunately there was no damage to its archival collection, much of which is stored off-site in a protected facility.
The society is continuing the celebration of the year of Edward Hopper, along with other exhibits relating to the history of Nyack and the sale of its publications, from 1 to 4p on Saturdays.  It will be open the same hours on Sundays during Nyack street fairs–September 25 and October 9.   DePew House, at 50 Piermont Avenue, is adjacent to the Nyack Library, with the Historical Society in Suite L2, facing Memorial Park.
Exhibits include the story in words and photographs of how Hopper House was saved from demolition  Also featured are an 1862 Rockland signature quilt, a piano and a sewing machine made in Nyack, chairs from Liberty Street School, and various other documents, photos, and other items from the local collection.
Next door in the Carnegie Room of the Nyack Library the Society has yet another display: "Early Photographs of Nyack."
For more information, see www.nyackhistory.org or call 845-358-3629. To volunteer at the headquarters, or to become a member of the Historical Society of the Nyacks, call Linda Green at 354-2854.
Photo: DePew House  Credit: Bob Goldberg.