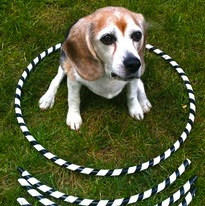 By Jenni Laurita
It's inevitable that we all grow older, but that doesn't necessarily mean we have to grow up, too. Here's one childhood memory you can relive any day which is both good fun and good exercise, too.
Three years ago I picked up an adult-sized hula hoop, giving it a whirl for the first time since I was a child.  Over the years my interests changed, my hobbies evolved and I had forgotten the simple joy of hula hooping.  During my first day in the ring after so many years away from hula hooping, I spent the better part of my day in a meditative rhythmic movement.
It never occurred to me that as we grew physically, the size of our childhood hula-hoops stayed the same.  As our bodies became bigger, the skill required to keep such a comparatively small object aloft became greater. The one afternoon I picked up an adult-sized hula-hoop, my body instantly remembered how to move and a hula hooper was reborn.
The correct size hula-hoop will fall somewhere between the belly button and chest as it is in front of you.  Surprising to most, the bigger the hoop, the easier it is to use.  Instinctively people will reach for child-sized hoops as they look to me for a hooping lesson, intimidated by the large size of the proper fitting hoop.  It's nearly a universal occurrence that all new and returning hoopers will reach for the smallest hoops as they giggle with anticipation at the return of their childhood activity.  Only after struggling with a small hoop do most people advance to larger sizes and pleasantly feel the gentle swoosh of their often-favorite new toy.
My favorite moments always involve convincing someone to try hula hooping after hearing them say they have never been able to, even as a child.  One small explanation of the sizing of hoops is usually all it takes to turn a hula doubter into a happy hooping believer.
Jenni Laurita is founder of JenniHoops'"¢, a three year old company that makes and sells Hula Hoops to children of all ages — including fun loving adults at corporate events. She is a regular vendor at the Nyack Street Fair.