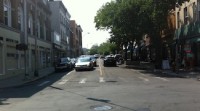 Nyack, August 6 —  Taking advantage of the work now under way on the village sidewalks, the Orangetown Sewer Department will repair a sewer in front of the Skylark Diner (Johnny Cakes) this week.
Main Street near Broadway will be closed during the project, which is expected to be completed in one day.
The project, originally scheduled to start on Monday, August 8, hasn't been announced as Orangetown Sewer is still in negotiations. For more information, visit Nyack-NY.gov.