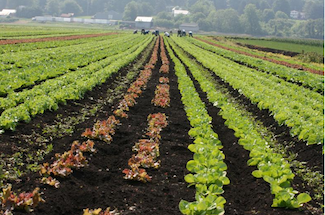 by Jon Miller
Farming is a family affair for Ray and Gary Glowaczewski, co-owners of R & G Farms. The brothers have been working in the same fields since they were seven. In fact, the farm goes back four generations.
'€œI remember as a kid I hated it out there,'€ recalls Gary. '€œThere was no summer vacation. When you went out of school you went to work. But all that hard work paid off.'€
Ray and Gary began their operation in 1998. The farm had previously been split up due to conflicts between their grandfather and their great uncle. But by purchasing land from their uncle and renting the rest from their father, the brothers re-united the property.
Though they started out with virtually nothing, today Ray and Gary have 26 employees and farm over 400 acres in the "black dirt region" of Orange County in Goshen, NY. Many trucks on the road serve farmers markets and supermarkets alike. They grow radish cilantro, onions, sweet, corn, three kinds of potatoes, garlic, watermelon, string beans and a host of other vegetables. The brothers continue to take great pride in growing high-quality, fresh produce that amazes their customers.
Ray serves as president of the operation. But he also oversees the planting and harvesting tractor and farm machinery maintenance. Vice president Gary is in charge of marketing and distribution including Farmers' Markets sales.
Farming has never been an easy profession. Prices often fluctuate, and crops go bad. Though Ray and Gary try to use limited sprays, insects sometimes threaten to overwhelm them. This summer has been particularly challenging with heavy several heavy downpours threatening the success of their growing season. '€œRight now, I really don't want to be the boss,'€ Gary says. '€œBut you keep on going because you want to keep on building. Even when times are hard, you have to keep on going.'€ The great fresh food from R&G and all of the Farmer's Market vendors doesn't come without a lot of dedication and hard work from sun up to sun down.
Photo Credit: R&G Produce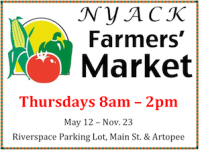 At The Farmer's Market is sponsored by the Chamber Of Commerce Of The Nyacks. The Nyack Farmer's Market is open Thursdays from 8a-2p in the Riverspace parking lot at the corner of Main St and Artopee in Nyack, NY from May through late November.