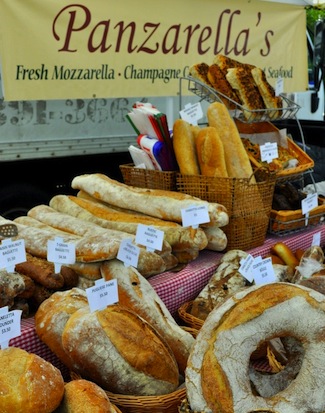 by Jon Miller
Ten years ago, Mike Panzarella was a managing partner at Boston Market. Because of a personal tragedy, he wanted to find a way to spend more time with his teenage children. Leaving the corporate world, Mike began selling mozzarella and bread with his kids at a small tent at the Greenwood Lake farmer's market.
With strong encouragement from patrons, the business quickly took off. In five years, Mike and his family were selling to six markets. Their menu expanded to include a variety of homemade products: pastas, sauces, both smoked and fresh mozarella, European breads, Maryland Champagne crab cakes, clam chowder and Italian ices. His goal was to wow the customers with everything they made.
Today, Panzarella's serves 17 markets a week, owns 17 vehicles and serves retail outlets, restaurants, and runs a home delivery service. Located in Northern New Jersey, the outlet has now been a staple of the Nyack Farmer's market for nine years, having grown from one to three tents. The delicious Italian cuisine now includes Ravioli, manicotti and eggplant rollatini stand, along with varieties of fish, steaks, burgers, and chicken. All meats come from grain-fed, USDA inspected livestock.
Mike's day's can begin very early — getting a head start on the sun rise. One day last week he was up and out at 2a helping his team bake the bread and prepare 70 quarts of fresh Rhode Island clam chowder for five farmers' markets the following day. Beyond the food itself, each stand requires detailed attention to everything from the coolers to the signage to the linens. Preparation will take the entire day.
Mike has a Masters in Marketing, but he has worked in the restaurant business all his life. He follows in the footsteps of his father, who sold fish door to door for a living. Just as when it opened, Panzaella's continues to employ only family and friends.
Still, Mike finds the most rewarding aspect to be the relationships he develops with customers. '€œA farmer's market is a social event. Most of the customers there know my first name. They know my life. I share their personal tragedies. I know their kids. I've watched them grow up. The rapport that we have with the people has been tremendous.'€
Check out Panzarella's full menu at PanzarellaFoods.com.
At The Farmer's Market is sponsored by the Chamber Of Commerce Of The Nyacks. The Nyack Farmer's Market is open Thursdays from 8a-2p in the Riverspace parking lot at the corner of Main St and Artopee in Nyack, NY from May through late November.