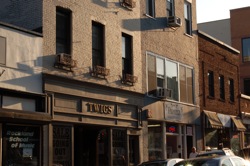 Nyack, August 15 — As we approach the September Democratic Primary, we'll hear from the two mayoral and two Village Board candidates on one topic each week. Mayor Richard Kavesh is running for re-election against Trustee Jen White. Incumbent Trustee Doug Foster and former Trustee Marie Lorenzini are running for two open seats on the Village Board.
Question: Storefronts in downtown Nyack have been vacated at an alarming rate. What can you do to encourage new retail businesses to open? Also, The Northwest corner of Main and Midland been an eyesore for at least 10 years.  What will you do to attend to the seemingly abandoned properties?  There seems to be many in our village.
Trustee Candidate Marie Lorenzini: This question ties into the overall financial crisis that the world is experiencing.  Many economists consider this crisis t be the worst financial crisis since the Great Depression of the 1930s.  It resulted in the collapse of large financial institutions, downturns in stock markets around the world.  It contributed to the failure of key businesses, declines in consumer wealth and a significant decline in economic activity.  Now with that having been acknowledged, Nyack has provided an avenue of exposure to its wonderful community and '€œinvited'€ through offering/closing its streets for Street Fairs, inviting all who would like to share the village's welcoming atmosphere. More…
Mayoral Candidate Richard Kavesh: The most important lesson I've learned and applied from my 20+ year business career and my 11 years on the Village Board is that it's the #1 job for all of us to serve all our customers, and that means both our residential and business communities, because we need each other to succeed.
I recently counted the ground-level shops on Main St. and Broadway:
| | | |
| --- | --- | --- |
| | Open or renovating | Closed or looking for renters |
| Main Street | 111 | 23 (concentrated on Upper Main Street and underneath Riverspace) |
| Broadway | 69 | 8 |
| | 180 (85%) | 31 (15%) |
Yet merchants village-wide are hurting. More…
Trustee Candidate Doug Foster:  Nyack's downtown commercial district is the life-blood of our village. Without it, our sense of community would be lost.  Supporting our downtown is therefore a top priority in keeping Nyack a place people want to live, work, shop and enjoy.
Unfortunately, Nyack was a recipient of a highly flawed, 1960's, federally subsidized, urban renewal program. Since then, there has been very little investment in our downtown, with fifty years of deferred maintenance.
In addition, our tax base is too small to support a regional commercial district. Our downtown only remains viable because of dedicated volunteers, merchant help and concerned residents. But despite a sputtering national economy, our downtown is faring relatively well, especially since there are few national retailers who have resources to withstand a long downturn.  More…
Mayoral Candidate Jen White: I believe that a strong, thriving downtown is one of the keys to a strong, thriving Village.  It will help keep taxes low and property values high. Today, downtown Nyack is a heady mix of nighttime and daytime. Stores that have been here forever like Maria Luisa and Sign of the Times thrive but work hard to do so. New stores like Gena Lisa and Saffron seem delighted to have found us.  At night, bars are crowded and new restaurants like Cafe Barcel and Velo are packed. Old favorites like O'D's, The Olde Village Inn and Hudson House still pull big crowds.
In a struggling economy, we are doing well.  And yet other doors close, people complain about nighttime noise, and daytime foot traffic is down. Some of the problems are national but some of the fault rests with the Village.  We not only can help, we must.
I began my Trustee term by founding a monthly meeting of downtown businesses who want to seek solutions rather than complain about problems. Out of this meeting came the "good neighbor" policy that encouraged bars and restaurants to help each reduce nighttime noise.  The police believe this approach was a key step in alleviating the nighttime chaos that was plaguing us.  More…