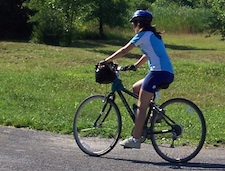 by Dave Zornow
It's been almost three months since my near death experience. And since that moment, I have frequently thought about what transpired during that second of time.
I was exactly one second away from a serious accident on a otherwise quiet, peaceful Easter Sunday morning on North Broadway in Nyack.
A guy in a silver SUV ran the stop sign at the corner of 5th Ave and North Broadway, turning North toward Upper Nyack. I know he didn't see me — because I looked right at him and he never made eye contact. In fact, he never looked to the left at all.
Traveling at a very leisurely 15 mph, he was 20 feet from me when he ran the stop sign. That's exactly one second. I had enough time to yell "Hey! You ran a stop sign" as he sped past. He had enough time to yell back "F-you — you ran a stop sign."
If this was about being in the right, he was wrong — the interserction of 5th and Broadway isn't a four way stop. However, it's not hard to imagine how you can be in the right on a bike but still seriously injured.
By many people's definition, this wasn't really a near death experience. I have pretty good reflexes and good luck — so far. But if the SUV driver didn't see me, it's reasonable to assume he wouldn't have seen a child biking on Broadway on that Sunday morning. Or a cyclist on a faster bike. Or my wife, who was only 20 feet behind me.
Clearly, he knew he was wrong. Instead of slowing down or apologizing, he doubled-down and turned it around, refusing responsibility for his actions. The two bystanders who saw the incident corroborated that he was both wrong…and a jerk.
Three months ago was the beginning of Spring. Now it's summertime and our streets are filled with joggers, walkers, pets and pedestrians as well as cars. If you are a biker — single up — and remember that cyclists have to share the road, too. If you are a motorist, look both ways and find a safe place to pass the joggers and the bikers with whom you share the road.
Drivers should remember that bikers will frequently give parked cars a wide berth when passing because cyclists never know when someone will open their car door. Be patient. Count to five. Nine times out of ten that's enough time to find a safe place to pass.
Taking a few extra seconds to slow down and pass safely will probably not make you late. But it might save someone's life.
NYS Vehicle & Traffic Law, § 1122-a. Overtaking a bicycle (aka "three foot law.")

The operator of a vehicle overtaking, from behind, a bicycle proceeding on the same side of a roadway shall pass to the left of such bicycle at a safe distance until safely clear thereof. (effective November 1, 2010)
See also: