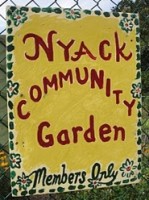 A chance encounter by the author of IWillOnlySayThisOnce.com blog profiles Nyack's Community Garden on Franklin Street at Depew.
"We passed a beautifully kept garden in Nyack, NY, fenced in, with vegetables and flowers growing in abundance. We also saw people working in the garden. We decided to stop by on our return journey, because I really wanted to learn more about this very urban vegetable patch."
It's a garden-friendly, community-friendly and English-friendly ("Truly a way to get to know your neighbours!") look at this overlooked gem in our own backyard.
IWillOnlySayThisOnce author Mathilda Williams is a passionate advocate for the benefits of community gardens. "It encourages economic development and can provide an income opportunity, it nurtures self-reliance and independence in communities," she says. "Green space is preserved, and in the warmest months of summer, gardens reduce heat from nearby parking lots and streets." Compared to eyesore of empty lots, Mathilda says that gardens are visually pleasing, too. "Gardening also creates opportunity for recreation and exercise, and most people find it therapeutic. A well-run community garden can be a great educational resource in any city, teaching families and children to become involved, work together and reap the benefits of team work," she says.
Read more at or Mathilda's review of Nyack's Community Garden at Community gardening '€" let's grow together.
See also: Nyack Backyard: A Visit to Nyack Community Garden, 7/23/2010