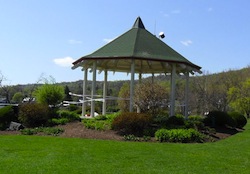 by Rev. Sala Saran
In the first week that same-sex marriage is legal in New York, 16-20 same gender couples will tie the knot on Sat. 7/30 at Memorial Park on the Hudson for FREE! Nyack Mayor Richard Kavesh will join me as these couples help make history in New York State.
The inspiration to organize this event came to me when a dear colleague recently announced her decision to offer free marriage ceremonies to same gender couples in Washington Square Park in NYC. The idea resonated so completely with me that I requested her permission to be an absolute copycat! She graciously insisted that I go for it. What's in it for us? The pleasure and fulfillment of upholding universal human rights and inherent dignity is priceless.
Last week, Nyack's Village Board gave me receive permission to perform the ceremonies in Memorial Park.  Mayor Richard Kavesh will be coming to the park to perform a few ceremonies right along with me!
As an Interfaith Minster, I honor all paths and consider Love my religion. Marriage equality is an issue of choosing love over fear of perceived differences. Since I live in Valley Cottage with my husband and our three children, it is important to emphasize that celebrating marriage equality is not only important to the gay community. As my twelve year old son exclaimed, "This is historic because now all people can express their love for each other freely without being judged."
This service is a gift of Love to all gay couples with a Marriage License, and the personalized ceremony will be free of charge. I look forward to celebrating and legally acknowledging same-gender Love and Marriages in NY!
If you'd like to join us on this special day of joining in holy matrimony, please email me to set up a time for each 30 minute ceremony on Sunday July 30. Please also send me the names, phone numbers and addresses for the couple.
Same gender couples can begin to apply for a Marriage License at all Marriage Bureau locations in New York on July 5, 2011 and begin to pick up the licenses on Monday, July 25, 2011. You must wait 24 hours from the date and time noted on your Marriage License before your ceremony can be legally performed. For more information, please visit http://www.health.state.ny.us/vital_records/married.htm.
Photo: Gazebo at Memorial Park in Nyack Credit: NyackBackYard.blogspot.com