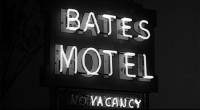 by Kris Burns
The Hopper Happens festival culminates on July 18 at 9p with an outdoor screening of Alfred Hitchcock's classic film Psycho.
Over the past two months, we've celebrated Nyack's most famous native son through live art flash mobs, projections, readings and much more. For this event, the municipal parking lot on Artopee Way will be turned into a drive-in theater where people can watch the film, projected on the side of the Verizon building, either from their cars or lawn chairs. Refreshments will be provided by Nyack Gourmet in classic drive-in style-delivered to you on roller skates by members of the Suburbia Roller Derby.
One of the main goals of the Hopper Happens festival was help us see Nyack the way Hopper saw it and how he would see it now if he were still walking these streets. So, while you may be familiar with a classic such as Psycho, now you get a chance to see it in a new way, not just in a unique setting, but with the added knowledge that it represents the meeting of two great artistic minds.
This Psycho screening is co-sponsored by the Village of Nyack, Rivertown Films and ACADA of Nyack and made possible with the cooperation of Verizon.
Audience members are asked to arrive by 9p. The screening will begin as soon as it gets dark, and spooky, enough.
Kris Burns is producing HopperHappens, a series of live art moments in Nyack that complement the Year Of Edward Hopper exhibits at the Hopper House Art Center. She is an artist in residence at the Hopper House.
Photo Credit: ThisDistractedGlobe.com