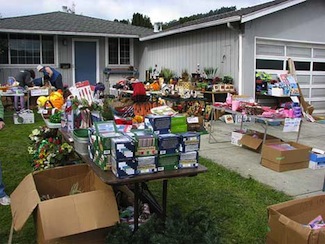 By Jennifer Hausler
It's summer and that means "Garage Sale" signs are popping up all over Nyack.  It's never a surprise to learn that families holding garage sales are in transition.  They might be empty nesters, divorcing couples with kids, widows, or adults who have recently lost their parents.  Even entrepreneurial kids, finally ready to part with favorite toys from their younger days, are out there pushing lemonade.
There is money to be made, but income is just one reason people might choose a garage sale over packing stuff up for consignment, thrift store donations or Ebay.  People feel good about directing their old stuff out of a landfill and into the hands of someone who can use it.  Still, getting rid of your personal history can be painful.  A garage sale allows the item's story to be told to an actual person – someone who might listen, recognize and hopefully, appreciate its value.
My grandmother, when it was time to sell off a good portion of what accumulated in her home in Sandusky, Ohio, stayed in the house while my mother and I held the sale. Even after salvaging her most precious, sentimental pieces, and passing on dozens of heirlooms, it was just too painful for her to see her memories walk away with strangers.  But for every widow like my grandmother, there's another who wants to be there to tell you about the ashtray she got on her honeymoon in Hawaii, the hours that she spent on a 3'x 4′ needlepoint version of Gauguin's "Femmes de Tahiti" (I bought it, of course), or the broken collar bone her son got on a $6 pair of old skis.  My doctor's receptionist sold me a gorgeous white wicker bassinet that she and her children had slept in.  Later I was able to show her photos of the baby shower where an ecstatic mom-to-be was given this important piece of history.
An inquiry about a perennial flower growing near the mailbox once yielded a tour of a spectacular backyard, where I saw dozens of rare plant specimens, heard about the 40 years of care and cultivation it took to get it to look that way, and left with a bag full of cuttings for transplanting at home. I've learned why a Star Wars ewok was crucial in the Battle of Endor, and why the first issue of "Swamp Thing" can't be separated from an intact comic book collection.
Nostalgia isn't just for the sellers, though. Because of my garage sale visits, my kids now drink from juice glasses just like the ones I drank from as a child.  I found copies of "Miss Suzy" and "Miss Twiggley's Tree," favorite books from my childhood that were probably sold off when we moved after my parents divorced. And where else would my kids have the chance to try out a rotary dial telephone, manual typewriter or Instamatic camera?
Garage sales satisfy our curiosity about how others live, and lived.  What treasures are in the deepest depths of our closets and why were they saved? They're an excuse to approach our neighbors and hear their stories — and Americans love a good story, almost as much as we love a bargain.
Jennifer Hausler writes the Nyack Backyard blog.
Photo Credit: Bob n Renee via Flicker