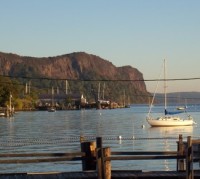 Nyack, July 22 — With temperatures expected to reach 99 today and 100 tomorrow, going for a summer time swim is a great way to cool down. But health officials in Rockland County and NYC warn that you shouldn't swim in the Hudson until further notice because of sewage that is being discharged into the river from a treatment facility on the West side of Manhattan.
Although the source of the sewage is down river from Nyack, there is concern that currents and tides can spread untreated waste up river as well.
A fire at the North River Wastewater Treatment Plant in New York at W. 135th Street and 12th Avenue yesterday disabled operations at the facility. Untreated wastewater is currently being  discharged directly into the Hudson auntil repairs can be made and service can be restored. The North River plant treats about 120 million gallons of wastewater a day.
Due to health risks posed by such a massive discharge of sewage, the New York City Health Department is warning swimmers and kayakers to stay out of the Hudson River now through the weekend. As a result of the tidal nature of the Hudson River, the river could be impacted in the vicinity of Rockland County as well.
As a result, the Rockland County Health Department is also advising swimmers, windsurfers, kayakers,
boaters and fishermen to avoid the waters of the Hudson River now throughout the weekend.
Additionally, The NYC Department of Health has issued The New York City Health Department has issued beach pollution advisories through Monday, July 25
South Beach in Staten Island
Midland Beach in Staten Island
Cedar Grove Beach in Staten Island
Sea Gate in Brooklyn
Sources: