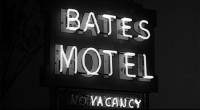 Tonight's scheduled outdoor showing of Psycho in Nyack has been canceled due to a 60 percent chance of thunderstorms this evening. "Small hail and gusty winds…New rainfall amounts between a quarter and half of an inch is possible" Rain date is next Monday, 7/25 at 9p.
Nyack, July 18 — The probability that tonight's outdoor screaming of Psycho will be terrifying is greater than 50 percent. But that's also the chance of rain  predicted for 9p tonight. A decision will be announced by noon today about whether the show will go on — the side of the Verizon building near Riverspace this evening.
Hopper Happens, a series of live art events designed to complement the "Year of Edward Hopper" in Nyack, will wrap up tonight at 9p with an outdoor screening of Alfred Hitchcock's classic film Psycho. If today's show gets scrubbed, the rain date is next Monday, July 25. Same time, same place.

"For this event, the municipal parking lot on Artopee Way will be turned into a drive-in theater where people can watch the film, projected on the side of the Verizon building, either from their cars or lawn chairs," says Hopper Happens coordinator Kris Burns. "Refreshments will be provided by Nyack Gourmet in classic drive-in style-delivered to you on roller skates by members of the Suburbia Roller Derby."
See also: