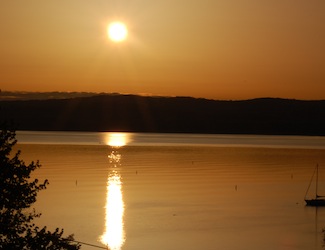 Nyack, July 23 — Today's forecast calls for 99 degrees, 20 percent chance of rain and 100 percent chance of misery.
Here's the WeatherUnderground.com prediction for 7/23/2011
Partly cloudy. A slight chance of showers and thunderstorms this afternoon. Hot with highs in the upper 90s. West winds 5 to 10 mph. Chance of rain 20 percent. Heat index values up to 105 this afternoon.
The Rockland County Department of Health has issued an Air Quality Health Advisory for July 23, 2011 because ozone levels are expected to exceed national air quality standards. The DOH recommends limiting strenuous outdoor physical activity, such as jogging, ball-playing and running during the afternoon and early evening hours when ozone levels are highest. People with breathing problems, older adults and young children should stay indoors in an air conditioned space. For air quality updates, visit the NYS DEC.
Yesterday, Rockland County issued an advisory yesterday not to swim, fish, kayak or touch the Hudson River until further notice. A a sewage treatment plant on the West Side of Manhattan began leaking untreated waste into the river after a Thursday fire disabled the plant. Although Rockland County is upriver from NYC, health officials are concerned that tides and wind could spread waste water North of the Tappan Zee. The Daily Hastings says you can't swim there; the Journal News says Croton Point Park in Ossining is open to swimmers.
Need a cool place to chill? The Nyack Center (58 Depew Ave) is open today from 9a to 9p. It will also be open on Sunday July 24 as needed.