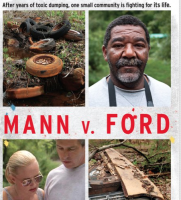 Ringwood NJ, July 18 2011 — An HBO documentary tonight at 9p puts a national spotlight on an environmental issue in the Ramapo Mountains in nearby Northern New Jersey. The Ramapough Mountain Indians have lived in the hills and forests in Ringwood for hundreds of years.  In the 1960s, the Ford Motor Company, bought their land and began dumping toxic waste in the woods and abandoned iron mines surrounding their homes.
Ford has acknowledged the dumping.  In the 1980s, the Ramapough's homeland was placed on the Environmental Protection Agency's list of federally monitored Superfund sites '€" and supposedly cleaned up by Ford.  However, thousands of tons of toxic waste were left behind.
In 2006, the residents of Upper Ringwood, after suffering for years from a range of mysterious ailments, including deadly cancers, skin rashes and high rates of miscarriage, filed a mass action lawsuit seeking millions of dollars from Ford as compensation for their suffering.  Ford denied all responsibility for the illnesses devastating the community and claimed its flawed cleanup had fully complied with all EPA rules.
MANN v. FORD tells the story of a small community's epic battle against two American giants:  the Ford Motor Company and the Environmental Protection Agency, which failed to ensure that Ford cleaned the land of deadly toxins and erroneously declared the community safe and clean of toxic waste.  The documentary debuts MONDAY, JULY 18 (9:00-10:45 p.m. ET/PT) on HBO.
HBO will also air this documentary on July 18 (4:25 a.m.), 21 (9:00 a.m.), 23 (10:30 a.m. ET; 1:00 p.m. PT), 26 (3:30 p.m., 12:35 a.m.) and 31 (4:15 p.m.)
For more information, visit HBO.com.