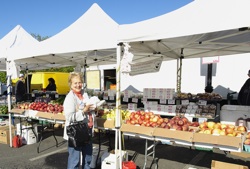 Rockland County is offering Free Farmer's Markets coupons for seniors with qualifying income on a first-come, first-served basis.  Each coupon booklet is a $20 value with five $4 coupons which can be used at the Thursday Nyack Farmer's Market and other any participating Farmers Market in Rockland County.
Rockland Adults 60 and over with income less than $1,679 a month (and $2,268 for two person households) are eligible to receive Farmer's Market coupons, as well as seniors who receive SSI, food stamps, public assistance or Section 8 housing subsidies.
Coupon books are now available for pick-up at the Nyack Senior Center at 90 Depew Avenue in Nyack and the Rockland County Office for the Aging at the Dr. Robert L. Yeager Health Center, Building B, in Pomona. Only one coupon booklet can be distributed per household and the eligible seniors must pick up the book themselves. Coupons can only be used at Farmer's Markets but not at grocery stores.
Nyack's Farmer's Market is every Thursday in the Riverspace parking lot from 8a-2p through November 23. Here is a list of additional markets in Rockland County:
HAVERSTRAW – Sundays, 9a – 1p: Maple Avenue in front of Haverstraw Village Hall
SPRING VALLEY – Wednesdays, 8:30a – 4p: Route 45 and North Church Street (Parking lot below Post Office)
PIERMONT '€" Sundays, 9:30a-3p: Corner of Ash Street and Piermont Avenue
SUFFERN – Saturdays, 8:30a '€" 12:30p: Parking lot '€œA'€ at Orange Ave. and Lafayette Ave
In addition to the Nyack Senior Center and the Office for the Aging, the coupon booklets are also available at these locations:
Clarkstown/Pearl River Senior Center – 121 West Nyack Road, Nanuet '€" 624-6334
Community Outreach Center (Senior Program) – 50 Melnick Drive, Monsey '€" 356-9600
Martin Luther King Center (Senior Program) – 110 Bethune Drive, Spring Valley '€" 425-8910
North Rockland Senior Center – 69 Bridge Street, Haverstraw '€"429-9027
Ramapo Senior Center – 185 North Main Street, Spring Valley '€" 356-2244
Thorpe Senior Center – 175 Route 340, Sparkill '€" 359-5801
Community Action Program '€" 37 Clove Avenue, Haverstraw '€" 429-9241
Community Action Program '€" 176 N. Main Street, Spring Valley '€" 352-4167
For coupon eligiblity and availability information, call the Office for the Aging during at 845-364-2110.
Photo: 2010 Nyack Farmers Market. Credit: A . Roufa, MD