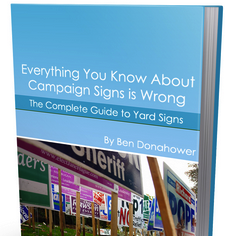 by Joseph Mitlof
Now that we have entered the political season, election candidate lawn signs are ubiquitous. I'm as supportive as anyone when it comes to fielding strong and varied candidates for elective office at all levels. My concern is, must we be subjected to electioneering for half of an entire year?
Yes, this season, candidate signs began showing up in June. The election in question is in November (albeit with a Sept. primary). June to November looking at electioneering signage seems a little much. Seems to me there was, at some point, a rule that election signs had to be 'taken down' x number of days after an election? Is it too much to hope for a benevolent (?) legislator that might support a rule for how early signs might be put UP? Many folks spend a great deal of money, time and effort making their lawns/yards attractive, can't we dispense with the distraction of election signs until maybe three or four weeks prior to an actual election?
Unfortunately, it's most likely too late for this election cycle but at least we might get a discussion on the subject underway?
Ben Donahower , author of the "Everything You Know About Campaign Signs Is Wrong," notes that New York has commonsense laws that prevent yard signs from being a danger to motorists and pedestrians. Signs in the Empire State must be removed within three days after an election. Signs are also prohibited from limited access highways such as the NYS Thruway, 287 and I-95.

"While some people think campaign yard signs are an eyesore, they are also an expression of political speech," says Donahower. "Free speech is just more important than our neighbor's well manicured front lawn particularly since it was our neighbor who put the sign in their yard in the first place!  Fortunately, the courts have agreed."

Donahower says that at least from a political perspective, campaign lawn signs work.  "Campaign signs increase a candidate's name recognition.  This is particularly helpful for a political newcomer who isn't as well known in the community.  The candidate can get his or her name out with campaign yard signs," he says.

Over the last decade, Donahower says he has heard everything from campaign lawn signs were the deciding the factor in their campaign to the oft quoted "yard signs don't vote" and everything in between. He has worked on campaigns full time since 2004 and in a volunteer capacity for ten years.

Ben Donahower started Campaign Trail Yard Signs to cut through campaign yard sign confusion and answer the questions "what do lawn signs do well?" and "when are they more trouble than they are worth?"