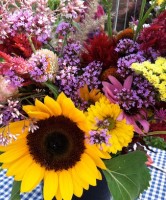 by Melanie Rock
Every Thursday, a varied selection of bouquets and potted herbs make the short trip from Bluefield Farms in Blauvelt to the Nyack Farmer's Market.  The ten acre farm is only ten minutes away from downtown Nyack.
The freshness of their flowers and the artistry of their arrangements are the added value that drives their popularity at the Farmer's Market. Mason jars stuffed with wildflowers, bouquets of purples, pinks and yellows, and tall, fragrant lilies bring a brilliant splash of color to these hazy summer days. As loyal customer Julie Wolfe, of Upper Nyack, exclaimed, "Who doesn't like flowers?!"
Last week, during the hottest Thursday in recent memory, the Bluefield Farms stand at the Nyack Farmer's Market was buzzing with business. Joy Macy and Rebecca Finnell, who work the land and man the stand, attended to wilted passersbys who stopped to contemplate a purchase before escaping the heat.
Bluefield Farms is a young farm on a very old parcel of land. This is their second year selling flowers at the Nyack Farmers Market, and only their sixth year in business. The property has a long history as a working farm, but was slated for subdivision and development in 1998. If not for the efforts of Joy Macy and the members of Bluefield Farms, this example of historical and agricultural preservation would have been lost.
In 1998, Joy and her husband purchased the historic sandstone house and adjacent old farmstead, trading their suburban roots and twelve-year Tappan residence for "greener pastures." Having no practical farming experience, and only the pull of past generations' legacy of dairy farming, Joy enrolled in the Master Gardener program at the Cornell Cooperative Extension. She befriended fellow student Rebecca Finnell, a resident of Piermont and recent early-retiree from the magazine publishing world. Having served as the chief editor of Natural History Magazine for twenty-five years, Rebecca was looking to apply her natural instincts in new ways. After an inspirational group trip to Stone Barns, Joy, Rebecca, and three other classmates formed the cooperative Bluefield Farms on Joy's land. Born in 2005, the farm initially aimed for a balanced yield of vegetables and flowers, but gradually the focus has turned to the flower market. Joy and her husband continue to live on the property, alongside many chickens, six cashmere goats, a non-commercial, organic vegetable garden, and a sea of flowers.
To learn more about Bluefield Farms, visit their stall any Thursday at the Nyack Farmer's Market and sign up for their Open House tour this Fall.
At The Farmer's Market is sponsored by the Chamber Of Commerce Of The Nyacks. The Nyack Farmer's Market is open Thursdays from 8a-2p in the Riverspace parking lot at the corner of Main St and Artopee in Nyack, NY from May through late November.

See also: Exploring Bluefield Farm, Nyack Backyard blog