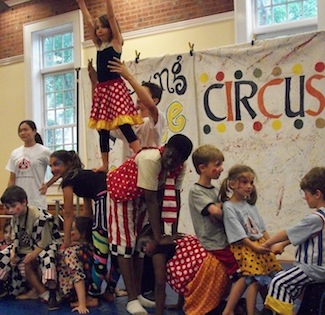 by Carlo Pellegrini
We have received calls from parents scrambling to find placements for their children because the camps that they registered with closed or reduced enrollment because of the economy. We want Rockland families to know that we still have some slots available in our circus arts program for children ages 5-14.
Amazing Grace CIRCUS!  is the first and only year-round circus arts youth development program in the Tri-state area. The program was developed by teenagers in workshops held in the aftermath of the tragic events of 9/11.  Entering its 10th year, the program serves over 3,000 children per year, providing youth ages five through eighteen a cross cultural and social experience through year round in-school, after-school and summer camp programming.
Participants gain confidence, improve their physical fitness and develop a spirit of collaboration that is at the heart of the culture of the circus. We train young people to '€˜juggle' the challenges that life throws their way while learning to balance on the shoulders of those they grow to trust.
Amazing Grace CIRCUS!  campers will learn to juggle, perform acrobatics, static trapeze, aerial skills and classic clown routines, create human pyramids and walk the tight wire.  No prior performance experience is necessary.  Workshops are led by instructors from Big Apple Circus, Acrobrats Inc. and Lux Aerial Entertainment.
Our  Summer Day Camp is held at the 150 year-old Gothic cathedral of Grace Church located at 130 First Avenue in Nyack, New York.  Sessions are held Monday through Friday from 9:00am until 4:00 pm.  There is a performance for family and friends at the end of each two-week camp session
Carlo Pellegrini  is the Director and Co-Founder of the Amazing Grace CIRCUS!  For more information, contact Carlo at  (845) 348-8740 or carlo@jugglingmatrix.com.