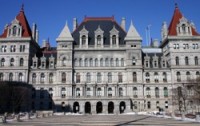 Rockland County, June 19 — It was a busy week in Albany as legislators wrapped up their current session. Locally, several hats were thrown into multiple rings, politically speaking.
In Nyack, there are three candidates for two open seats on the Village Board. Incumbent Doug Foster is running for reelection; former trustee Marie Lorenzini wants her old job back; and Main Street Restaurant owner Marianne Olive wants a seat at the dais for the Thursday night Village Hall party. Current Trustee Jen White is vacating her current VB seat as she runs for Mayor this Fall.
Diane Holland, a candidate for Clarkstown Clerk, will hold a kickoff event for her campaign on Monday night.
MTA Tax To Be Commuted? The New York State Senate passed legislation on Wednesday to repeal the MTA Payroll Tax. '€œThis is a job killing onerous tax that never should have been implemented,'€  said bill sponsor Senator David Carlucci (D-Rockland/Orange) .
The good news is the bill will phase out the MTA payroll tax in two steps. The bad news is that there's no news about the Assembly passing a similar bill. Mike Whyland, a spokesman for Assembly Speaker Sheldon Silver told the Orange County Times-Herald-Record "we have no plans to change the MTA payroll tax."
The Senate also passed another MTA focused measure sponsored by Carlucci to start a forensic audit of the public authority. This top-to-bottom review of the MTA and would be conducted by an independent outside auditing firm and be paid for by the authority.
A bill to ban smoking on Metro-North Railroad platforms got Assembly approval on Wednesday. The measure was sponsored by Assemblywoman Ellen Jaffee (D-Suffern) and now heads to Governor Cuomo for signature. "Smoking is currently prohibited on New York City's subway platforms, but our state's commuter rail travelers remain exposed," said Jaffee. "This law will strengthen a ban that currently protects some commuters, but not all.'€
Help for Schools And Local Government: Created with an eye toward helping schools and local government, Carlucci's sponsored and passed a bill to cut costs and lower burdens on taxpayers by streamlining the process for schools and other local governments to jointly consolidate healthcare-related and administrative operations. '€œEmployee benefits which are a major part of the cost of running local municipal governments,'€ Carlucci said. "Through common sense measures such as this we can save taxpayer dollars and provide quality services to employees.'€
Ms. Inside vs. Mr. Outside: In January, Freshman Democratic Senator David Carlucci made a point of his joining the "outsider" Independent Democratic Caucus, citing the dysfunction of the Democratic Caucus. By contrast, Assemblywoman Ellen Jaffee just got an inside job this week joining the Democratic Leadership in the Assembly. Speaker Sheldon Silver awarded Jaffee the Secretary of the Majority Conference position. It probably isn't coincidental that Jaffee's first press release after getting the job includes a gratuitous quote from Silver.