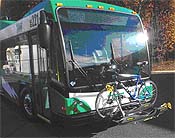 Take TOR to cool in a pool or hike the hills this summer in Rockland County.
Transit Of Rockland buses go to most of the county's pools and parks including Harriman Park hiking trails in Sloatsburg, riverfront parks in Nyack and Haverstraw and the public pools and Farmer's Markets throughout the county.
TOR bus route #93 offers its annual summer detour to Spook Rock Swimming Pool's parking lot on Saturday, June 18. On the bus schedule, the stop for Spook Rock Pool is between Rockland Community College and Suffern High School.
Bus fares are $2 per ride, with discounted Super Saver tickets available for purchase at many locations (ten rides for $11).
Go to RocklandGov.com for bus schedules and links to all transit systems or call the Transit Information Center at (845) 364-3333, Monday through Friday 9a-5p.