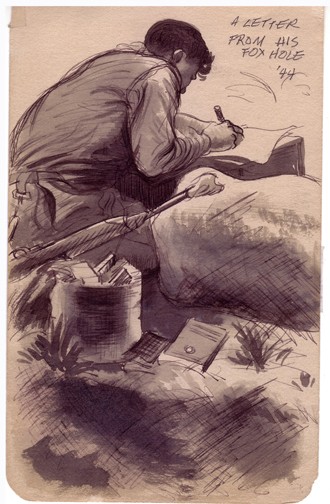 by Liz Sayles
The Ghost Army Exhibit now on view at the Historical Society of Rockland would never have happened if documentary filmmaker Rick Beyer hadn't been combing through the National Archives looking for… something.
What he found was an amazing tale – never before told on film – about a hand-picked group of World War II GIs, many of whom were artists, who went to war armed with paintbrushes, inflatable tanks, and sound effects records and who befuddled Hitler's forces in more than twenty front-line deceptions. In private moments, they painted and sketched their way across Europe, creating a unique and poignant visual record of their war.
That was five years ago.  Rick has since traveled the country documenting the stories and artwork of the Ghost Army vets and putting all together in the documentary film – The Ghost Army.  Much of his efforts, including clips from the film is what makes up this unique exhibit.
Rick is now raising money via Kickstarter to finish the film! Over 100 donors have contributed any amount from $1 on up.  The rough cut of the film will be having its WORLD PREMIERE right here in Rockland, at the Lafayette Theater on September 18 !
You can help tell one of the Greatest War Stories Never Told by lending your financial support to Ghost Army through Kickstarter.
There are only a few days left to reach the goal! If you enjoyed the exhibit, think this is an important project, or are just a fan of the arts and history, please visit Kickstarter, a unique all-or-nothing funding method where projects must be fully-funded or no money changes hands. "But time is running out for these World War II vets," says Rick. "Their story must be told quickly if it is to be told at all. Since no TV network or foundation offered to finance the project, I decided to produce it myself as an independent documentary." This project will only be funded if at least $18,000 is pledged by Tuesday Jul 5, 10:06a. As of today, the project needs only $1,233 more to reach its goal! You can help by pledging as little as $1 at Kickstarter and by helping to publicize the project through social media on Facebook, Twitter and other sites.
To see the Ghost Army Exhibit, visit the Historical Society of Rockland County now through October 16, 2011 at 20 Zukor Rd. New City, NY. The gallery hours are Weds. – Sunday,  Noon – 4pm $7 adults, free for members.