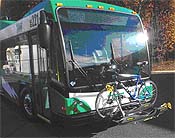 TOR and TZx buses will operate as if it were Sunday on Monday, July 4.
Here's the  bus-by-bus break down for Friday and Monday:
On July 1, Tappan Zee Express (TZx) buses will provide additional buses on regularly scheduled afternoon departures to accommodate an expected early rush hour at the Tarrytown Metro-North Rail Station.  On Monday July 4, the TZx will operate a Sunday schedule.
TOR will operate Sunday service on July 4, with TOR Loop #1 and Loop #2 running a normal weekday schedule.
TRIPS paratransit buses, Coach USA Express buses from the Exit 14 Park & Ride lot, Clarkstown Mini Trans buses, Spring Valley Jitney buses and the Haverstraw-Ossining Ferry will not operate on July 4.
Metro-North trains and New Jersey Transit trains from Rockland will operate a weekend service on Monday July 4.
For more information, call the Rockland Transit Information Center at (845) 364-3333, 9a-5p Monday to Friday or visit rocklandgov.com.
Source: Rockland County Dept of Transportation
See Also: tzxBus.com