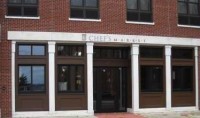 by Joseph Mitlof
Nyack should consider a "Real Estate Czar" to deal with the large number of commercial properties that are now vacant. As one example, an 'overseer' might be of help in filling the 'Gateway' locations on Main and 9W (Highland) and Waldron & Main. Someone who is retired but has a real estate background might be able to help both the Village of Nyack and the property owners.    Here are a few reasons why this is worthy of consideration:
An objective professional could look at the BIG picture. Individual owners and realtors generally will not.
Give the community and the powers that be, a true, comprehensive view of the overall real estate picture. i.e. vacancies etc.
Promote creative possibilities,  such as potentially combining contiguous properties for a broader, out of the region, market.   Three contiguous properties are currently for sale along one of our most visible streets at the corner of Waldron & Main (Rte.59). The marketing possibilities are legion but not necessarily available to individual owners.
Explore the highest and best use, a long held real estate mantra. A good example is the Nyack waterfront. Arguably some of the most valuable real estate in the N.Y. Metro area, but we now use it to store snow and a few old boats.
Thanks for listening,
Joseph Mitlof