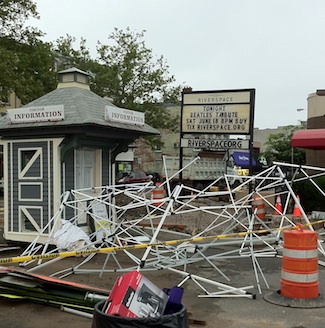 Rockland County, June 23 — Rockland County was under a state of emergency from 1-5p today due to heavy rain and flooding in the county.  Nyack High Schools has cancelled the outdoor graduation planned for Thurs evening 6/23 and rescheduled graduation for tomorrow.
If the rain persists on Friday, graduation exercises will take place in the Nyack High School gym. A limited number of tickets will be available for this event.  A final decision on Friday graduation plans will be announced by 12n on Fri 6/24. Project Graduation will be held as scheduled on Thursday evening at 11p in the high school.
Riverspace was flooded during the storm as the Nyack Brook which runs underneath the theatre overflowed its culvert.
RocklandWeb uploaded this YouTube video of severe flooding on Main Street in Nyack during the flash flood.
Clarkstown also declared a State of Emergency at 11:30am Thursday. The following advisory was issued about travel in Clarkstown on Thursday morning:
A State of Emergency gives the Supervisor broad powers to protect the public health and safety of residents who may be affected by the flooding.  Under the State of Emergency, the Supervisor directed all departments and agencies of the Town to take whatever steps are necessary to protect life and property, public infrastructure, and provide any necessary emergency assistance.

Residents should avoid traveling in the following areas of the Town that are either currently flooded or are subject to flooding:

South Pascack Road (at the tunnel)
Rt. 303 (by the landfill)
Rt. 304 northbound at Congers Road
Springbrook/Pascack
New Hempstead Road and Main Street
Newport Dr./Pascack Rd.
Old Mill (by the dam)
Jeffrey Court
Klein Ave.
Benson Ave.
Convent Rd. at the railroad
Ludvigh Rd//Spruce St./ Poplar St.
North Greenbush Road
Rt. 59 (in front of Palisades Mall)
Rt. 59 (in front of Nanuet Mall)
Rt. 59 (in front of Rockland Center)

Town facilities have also been impacted by the rain including: Lake Nanuet Pool, which is closed until further notice; Central Nyack Community Center basement is flooding but remains open; 3 pump stations, two in Central Nyack and one in New City; and various sewer mains are surcharged.  The Town's Office of Emergency Management will continue to monitor the Hackensack River for flooding.
Photo: Ackerman Ave in Nyack, 12p 6/23/2010. Credit: John Patrick Schutz
Photo: Thurs Farmer's Market in Riverspace parking lot  Credit: Roger Cohen
Video Credit: Rocklandweb via YouTube