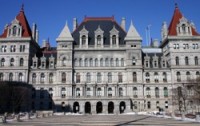 Albany, June 24 — By a vote of 33-29, New York State became the sixth and so far largest state to permit same-sex marriage. NYS joins Iowa, Vermont, New Hampshire, Massachusetts and Connecticut as same-sex marriage states.
Here's that news and how seven sources reported it.
"Striking what advocates believe is a historic victory for gay rights, the New York state senate Friday approved same-sex marriage, bringing New York a promised governor's signature away from being the sixth and largest state to allow gays and lesbians to marry.
The 33-29 vote is an enormous victory for first-year Gov. Andrew Cuomo, a Democrat who pledged during last fall's campaign to push for gay marriage. It comes after an intense public and private lobbying campaign from a wide cast of politicians, celebrities and athletes, including New York City Mayor Michael Bloomberg and former President Bill Clinton." — Politico.com, 6/24/2011
"Earlier this month, after coordinated lobbying by Cuomo and gay rights advocates, three Democrats and two Republicans '€" including Sen. Roy McDonald, R-Saratoga '€" declared their support for the bill, bringing the public tally to 31. But until it went onto the floor, it was unclear who the last votes would be.
The chamber was proceeding with vote on chapter amendments to the bill '€" strengthening language offering protection to churches and religious groups '€" when Sen. Steve Saland, R-Poughkeepsie, announced he would vote yes on the measure, providing the 32nd vote required for passage." — Albany Times Union blog, 6/24/2011
"New York has become the sixth state to legalize same-sex marriage. Not by court order, but by a vote of 33 to 29 of the state Senate. With leadership from the highest reaches of state government, gay and lesbian couples who longed for the rights and responsibilities, the dignity and respect, that come with marriage will soon be able to do so legally in the Empire State." — Washington Post, Editorial Board Opinion, 6/24/2011
"Though New York is a relative latecomer in allowing gay marriage, it is considered an important prize for advocates, given the state's size and New York City's international stature and its role as the birthplace of the gay rights movement, which is considered to have started with the Stonewall riots in Greenwich Village in 1969." — Huffington Post, 6/24/2011
"Now, couples who marry and live in New York will be able to file their state tax returns jointly. Wealthier couples may end up paying more in taxes, but families with lower incomes may owe less.
Couples who decide to marry will also be first in line to inherit their spouses' assets, even in the absence of a will. They'll gain an array of smaller benefits as well, down to the ability to transfer a lobstering license. Married couples will be able to file their state tax returns jointly, though they will still need to file separate federal tax returns (either as single or head of household)." — New York Times, 6/24/2010
"Since same-sex marriages are now legally equivalent to heterosexual unions, same-sex couples' right to divorce will be rooted in New York's Domestic Relations Law, rather than cobbled together out of court rulings and individual judges' decisions, according to Bettina Hindin, an attorney who has represented same-sex couples in New York divorce proceedings. — Reuters, 06/24/2011
Advocacy groups from both sides of the debate swarmed the Capitol in recent weeks, filling the halls outside the Senate chamber. Adversaries stood beside one another, holding signs that read '€œDefend Biblical Marriage'€ and '€œ'€˜I Do' Support Marriage Equality'€ as they jockeyed to make their chants and songs the loudest.
The cause also attracted a cadre of celebrities. '€œSex and the City'€ actress Cynthia Nixon, New York Rangers hockey player Sean Avery and Food Network chef Mario Batali walked the Capitol halls to support the measure. Former New York Giants wide receiver David Tyree spoke out against it." — Bloomberg, 06/24/2011