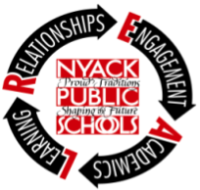 Nyack Schools' Board Of Education will discuss a recommendation from interim Superintendent Jason Friedman about further restrictions on Nyack High School's open campus policy at their next meeting on June 21.
Last Fall, the board approved a new policy eliminating off campus lunch privileges for freshman and for sophomores with a poor grades. Friedman is recommending extending the merit-based policy to include next year's Junior Class.
Additionally, a "no driving" policy will be considered for all grades at Nyack High School. Citing AAA statistics, Friedman says the revised policy makes good sense. "Teens represent 7% of the licensed population, but are involved in almost 20% of all fatal crashes," he said. Nyack is the only school in Rockland County that lets seniors drive off campus without any restrictions.
The Nyack Schools Board of Education will meet to discuss these proposals on Tuesday, June 21.