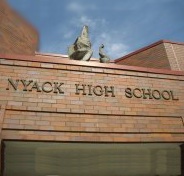 Nyack High School senior Taylor R. Swann has been awarded a $3,000 scholarship in recognition of her efforts to overcome special challenges, complete high school and go to college. Swann will receive the annual Cristin Ann Bambino Memorial Scholarship award from the The New York Schools Insurance Reciprocal.
Swann, who has a genetic illness that makes it difficult to learn, retain and memorize material, has struggled in school since childhood. '€œMy grades slowly improved and I slowly began to feel better about myself,'€ said Swann. She credits her accomplishments to her mother who helped her improve her learning abilities by playing games and teaching her association skills, and to her teachers who encouraged her to complete her project work and to make greater use of the computer in her school work.
In addition to improved grades, Ms. Swann's accomplishments include playing non-competitive sports, studying the violin, and volunteering at a local soup kitchen where she feels that she is helping both the people who are in need and the seniors who run the kitchen.
Swann is very excited to be graduating this year and plans to attend college and study fine arts. '€œI'm working hard on learning to be okay with my disease. I still find school difficult, however, I keep going. That's what I would say to others. You keep going. You never give up,'€ said the scholarship winner.
In announcing the award, NYSIR's Director of Risk Management, Robert Bambino, father of the late Cristin Ann Bambino, said the scholarship selection committee was very impressed with Ms. Swann's determination and drive to overcome her learning disabilities and succeed.
The NYSIR, largest writer of property and casualty insurance coverage for New York public schools, has awarded six Cristin Ann Bambino scholarships this year to students who have worked hard to meet the challenges of learning disabilities.