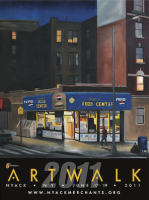 Nyack, June 15 — Thirty stores, museums and public spaces will be turned into temporary art galleries this weekend during the 6th annual Art Walk in Nyack. Local and regional artists display their work and are hand in each space to meet the public during the three day event.
'€œI am still in awe of the amazing talent that's out there, '€ says Paulette Ross, producer of Art Walk. The theme of this year's event is "A Tribute To Edward Hopper," honoring the acclaimed artist on the 40th anniversary of the Hopper House Art Center in Nyack.  "I am thrilled at the creative result of this twist to the event," says Ross.
"Unlike other Art Walks that I have participated in, Nyack's event is unique because the artist is in residence," says artist and graphic designer David Derr. "That's important because it creates an comfortable opportunity for  the artists, art admirers and potential purchasers to interact." Derr says the format of the event introduces people to both businesses and artists that they might never have had a previous opportunity to meet. "It's a win-win situation which creates a large volume of traffic during the show for both the artist and the each hosting merchant."
Derr will conduct a special art class for children on Sunday from 1-3p at Eyevolution Optique. Call 845-353-4701 for reservations.
Art Walk 2011 takes place on June 17-19 on Friday from  7-9p, Saturday from 12n-5p and 6-9p
and on Sunday from 12-5p.
Here's a list of participating shops and places and the artists in residence at each location. For a map of all locations in downtown Nyack, visit NyackMerchants.org.
| | |
| --- | --- |
| Art Café | Kayla Ferrick |
| Bee Spa & Retail Store | Catherine Straub |
| Body Inkorporated | Ellie Turk |
| Chocolaterie | Dorothea Erichsen |
| Corner Frame Shop | Neil Lavey |
| Eyevolution Optique | David Derr |
| Funny Business | Brett Berland |
| Fuzziwhigs | Kevin Cross |
| Gagliardi Photo Collection | Robert Scheuerman |
| Gallery of Metal & Stone | Sue Stotsky |
| Gena Lisa Boutique | Deborah Bart |
| Grandview Fashions Inc. | Rolande Magloire |
| Hickory Dickory Dock | Norma Costa |
| Historical Society of the Nyacks | "Edward Hopper History" |
| Hopper House | Edward Hopper Prelude |
| Iriniri | Diane Parsons Designs |
| Lifestyle Jeans | Edward Michael Gaffney |
| Maria Luisa | Kellie Walsh/Rupert Rogers |
| ML Gifts & Accessories | Jared McKay |
| Nyack General Store | Robert Adam Mayer |
| Nyack Library | Ron Wohlgemuth |
| Nyack Wine Cellar | Linda Higgins |
| Olive's | Jeff Spindel |
| Optical Shop of Nyack | Jorge Madrigal |
| p.ross | Richard Sutton |
| Saffron Trading Company | Natasha Rabin |
| Sanctuary | Amelie Southwood |
| Somos Designer Jewelry Gallery | Barbara Boeck |
| Spice of India | Sarah Rothbaum |
| Weld Realty | Tammy Alysse Doan |