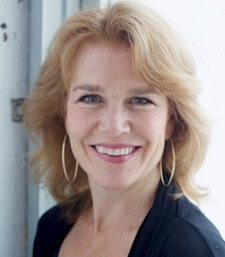 by Jen White
At Tuesday night's Nyack Democratic Committee meeting, I officially announced my candidacy for Mayor of Nyack and I was delighted to receive their endorsement.  I am tremendously excited about the future of Nyack and their endorsement means a great deal.
I look at our wonderful Village and see all of the reasons I have chosen to raise my family here but I can also see that there's much that needs to be done.
Nyack is at a crossroads. We've turned the corner financially, added controls to assure our village is on a firm financial footing and taken the first tentative steps in exploring the feasibility of redeveloping our downtown. We've accomplished a lot — but we have a ways to go.  It is important we firm up a vision for our future while holding tight to the things that make us what we are.  We must:
Keep taxes low and services stable and find jobs or better housing for those who are struggling.  We must find new ways to generate revenue.  We must lose our dependence on parking revenue and our insufficient tax base and we must encourage new tax ratables.
Work on economic development and increased success for our merchants.  We must implement green initiatives, rather than talking about them and we need to find healthy extracurricular activities for our children, our young adults and our elderly to engage in.
Clean up noise, crime and litter in our Village streets.  We can have a lively Nyack night life, and also let our residents sleep at night.
Continue to pursue creative solutions to potential redevelopment, such as the Superblock, which insulate taxpayers from risk and allow for our downtown to reinvent itself while embracing our Village's charm and history.
And we need to understand that these things will not happen without a steady, constant and committed hand to guide them.
Nyack needs leadership that relies on work and progress and not just legislation and delegation.  We need someone with vision, ideas and a willingness to go out and help each resident try to realize their dream of what our village can be.
I hope to put my experience as Village Trustee, founder of the Nyack Parks Conservancy, longtime member of the Nyack Park Commission and as a community leader to use as Nyack's next Mayor.  I have shown over and over again that I know how to work and that I can make things happen.  Now I want to share with all of you the responsibility for moving Nyack forward.
We want to live in a place that thrives rather than struggles, that's peaceful rather than chaotic, that's forward thinking rather than stuck in the past.   We need to work together to make the Nyack we love into the Nyack we imagine.  It will be a challenge to complete all of these goals. I've proven that I can work with diverse teams of talented individuals in our community to reach goals and improve our community. I'm looking forward to continuing this work as your Mayor.
Please feel free to call me if you have any questions.  (914) 282-3068
And visit my website: JenWhiteForMayor.com or find me on Facebook: Jen White for Mayor