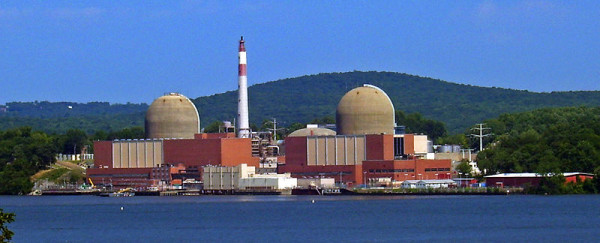 by Dave Zornow
Cortlandt Manor NY, June 2 — What do NYS Assemblywoman Ellen Jaffee, Rockland County Executive Scott Vanderhoef, NYS Attorney General Eric Schneiderman, Congressman Eliot Engel and Governor Andrew Cuomo have in common? All of these politicians have announced their opposition to federal re-licensing of the Indian Point nuclear plant in Buchanan, NY.
The Nuclear Regulatory Commission will hold a public hearing today today (6/2 at 6:30p) in Cortlandt Manor, NY to assess Indian Point's 2010 safety performance. The Sierra Club says this meeting is the public's last chance to speak to the NRC about their Indian Point concerns before re-licensing hearings begin in the Fall.
With all of these voices opposed to the nuclear plant on the Hudson set against the backdrop of this Spring's Fukishima disaster in Japan, you would think that closing Indian Point is a done deal. And you would be wrong.
Last month, NYS Senator David Carlucci (D, Rockland County) invited the Senate Committee on Energy and Telecommunications to hold hearings on Indian Point in Stony Point, NY — just across the Hudson from the nuclear facility. Carlucci was joined by Committee Chairman George Maziarz (R-C, near Rochester and Niagara Falls) and Ranking Chair of the Energy Committee Kevin Parker (D, Brooklyn).
The hearings included a few surprises and one moment of drama, too.
Who was there — and who wasn't: Carlucci, a member of the breakaway Independent Democratic Caucus, is the youngest state senator in NYS history. At one point, Chairman Maziarz joked that he had been effectively "harassed" by Carlucci's persistence in scheduling the hearings.
The senators heard from plant owner Entergy, the Rockland and Westchester business associations, scientists, seismologists and the NY Affordable Reliable Electricity Alliance. Indian Point fans significantly outnumbered nuclear critics at the testimony table.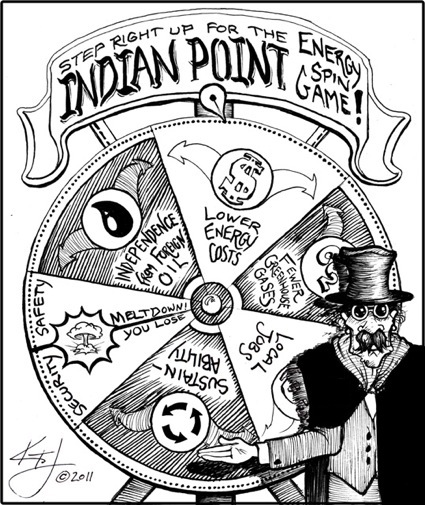 Can't live with the risk — can't live without the power. Depending on the seasonal load, Entergy says that Indian Point supplies between 18 and 30 percent of downstate energy needs. The NYISO (Independent System Operator) seconds that analysis noting that failure to re-license the plant will lead to rolling blackouts beginning in the Summer of 2016.
What's next after Indian Point. Noting that Entergy says that after this 20 year renewal request, Indian Point's owner won't seek a another license renewal for the facility, Carlucci asked the witnesses how the industry plans to replace this generating capacity. Given the long lead time it takes to get approval to construct new power plants, none of the witnesses had a good answer. Many pointed fingers at Albany for its failure to create a simplified regulatory process to site new energy plants as a significant impediment to putting new facilities online.
Can Get There From Here. "There are upstate wind farms that don't connect to anything," said Paul Vitale of the Business Council of Westchester. "There are people upstate who want nuclear plants. Where there are people who wants those plants, we should build them," said Vitale.
NYISO says the problem is getting the energy from there…to here. "Certain areas of the state lack enough transmission to efficiently move power to downstate where most of the load is," said NYISO President and CEO Stephen Whitley. "Much of New York's transmission is aging and many facilities require replacement in the next 20 years." Whitley says New York needs to upgrade and improve its transmission systems to move surplus power from upstate and western NY to downstate.
Indian Point sits on two fault lines? Japan's Tohoku earthquake and tsunami served to heighten awareness of future natural disasters in the Hudson Valley. But experts say what happened in Japan can't happen here. "New York is seismologically different from California or Japan because it is situated in the middle of a tectonic plate well away from the plate edge where most earthquakes occur," says Dr. Arthur Lerner-Lam from the Lamont-Doherty Earth Observatory of Columbia University. A study of the last 330 years of seismic activity near Indian Point — going back to 1627 — showed the strongest earthquake occured in 1884 with a 5.25 magnitude. "The geology is so different here that the likelihood of a mega event of of a 9.0 magnitude like the March 2011 Tohoku earthquake is unlikely," he said. "It simply won't happen."
Dr. A.E. Gates of Rutgers concurs. "The likelihood of a fault producing a large enough earthquake that is close to the power plant to damage it within its operational lifetime is remote," he said.
No where to run. Indian Point executives say they can evacuate the 10 mile zone around Indian Point in five to 12 hours — but Clarkstown Supervisor Alex Gromack isn't buying it. "For over 30 years I have been an advocate of closing Indian Point because the surrounding area cannot be evacuated in the event of a serious nuclear event." Gromack says despite careful planning, there's no way to know how people will behave in the event of a nuclear emergency. "School teachers and school bus drivers are dedicated public employees. But if the Indian Point evacuation siren sounds, can we depend on the teachers staying and the bus drivers returning to pick up students?"
Carlucci asked Rockland Business Association President and Indian Point supporter Al Samuels about Gromack's testimony. Samuels acknowledged Gromack's concerns but said he isn't worried. "It's my opinion that the need for an evacuation plan is so minimal that it shouldn't be the focus of our conversations," Samuels said. "I don't believe the plan is something we need to agonize over. I don't believe we will ever need to put it into effect."
Gromack and Samuels' testimony provided a good snapshot of both sides of the re-licensing debate. Because when it comes to Indian Point, it's not what you know. It's whom you choose to believe.
The NRC will hold a public hearing on Indian Point's 2010 safety record on Thursday June 2 at 6:30p in Cortlandt Manor at the Colonial Terrace catering facility at 119 Oregon Road. Directions are available here.