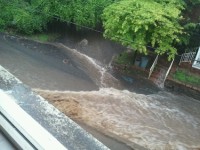 by George Potanovic, Jr.
During last week's severe storms, County Executive Vanderhoef declared a flooding "State of Emergency." That announcement begged the question – does Rockland County actually have a water shortage?
Earlier this month, US Geological Survey Hydrologist Paul Heisig presented Rockland County Water '€" Resource Assessment to the public and county planning officials. The five year study evaluated the county's supply and demand for drinking water and concluded that Rockland County has adequate water to meet current demand but could experience difficulty meeting peak demand in summer months when outdoor lawn watering becomes a significant factor. Funded by the County of Rockland, the NYS DEC and United Water, the report also indicated improved water management and conservation practices should be adopted to recharge Rockland aquifers by halting the current practice of dumping 14 billion gallons of water each year into the Hudson.
Currently, after a heavy rainstorm, stormwater is channeled into storm drains and streams that can become overburdened. This can cause mass erosion and flooding which can lead to property damage for homeowners and businesses. A tremendous amount of water is lost which the USGS report calls a "wasted resource."
"Planning and zoning officials of the towns and villages in Rockland County need to provide stewardship of the land and ancillary resources," said Jonathan Hyman, a consultant to ROSA (Ramapo Organized for Sustainability and a Safe Aquifer) and Director, The Public Forum Group. "Public officials need to consider the impact on wetlands and riparian buffers as they confront the County's aquifer and water issues," he said. ROSA currently has lawsuits pending against the 500- multiple family Patrick Farm development planned for Route 202 near Route 306, which lies above the sole source aquifer that supplies water to a vast area of the Lower Hudson Valley (NY) as well as the northern parts of New Jersey.
Environmental and civic groups from the Rockland County Water Coalition are asking the Rockland County Legislature to examine the real environmental and economic costs of the proposed United Water Desalination Plant on the Hudson River at Haverstraw Bay.  Many environmentalists are questioning whether water conservation was adequately considered in the agreement. The Hudson River Desalination Plant would produce 7.5 million gallons per day primarily for peak summer demand. It would also result in increased hidden costs to Rockand rate payers and tax payers, intensive energy use, adverse impacts on Haverstraw Bay fish life and potential health issues.
USGS Rockland County Water – Resource report says our water sources are stressed but they are not trending downward trend as previously thought. However, Rockland County needs to act on sustainable land use planning practices, including grey water reuse, rainwater capture, use of more permeable surfaces and better management of all water resources within Rockland. In addition, we need much closer accountability for the actual amount of water being sent from Lake DeForest to New Jersey each year.
Although the county legislature has included a Rockland County Water Conservation and Management Policy goal in the county's comprehensive plan, several groups want lawmakers to incorporate these policies into legislation. We are looking to the county to develop a legal framework that would require Rockland development to be sustainable concerning our water resources and not a knee-jerk reaction to builders who demand more and more development without considering the eventual costs to Rockland taxpayers for water, roads, schools and services.
Without improved land use planning at the town and village level and a sensible county water conservation and management policy, Rockland is destined to lose its quality of life and accept the eventual environmental and economic burden of unsustainable over development. Water is a shared resource and it is about time that we all recognize our collective responsibility to protect it.
George Potanovic, Jr. is president of the Stony Point Action Committee Environment, member of the Rockland Coalition for Sustainable Water and a professional photographer whose subjects include scenes from Rockland and the Hudson Valley.
For more information about the Rockland County Water Coalition, visit SustainableRockland.org or call 845-429-2020. For information on getting more involved with Rockland water issues, email RocklandWater@gmail.com
Ackerman Ave in Nyack, NY during 6/23/2011 storm. Photo Credit: J.P. Schutz
See also: Hudson River Desalination Why NYS Public Service Commission Rate Cases Should Be Reopened," Ramapo Times, 6/3/2011