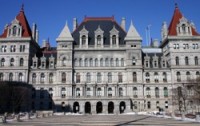 by Larry M. Elkin
The new ethics law passed by the New York State Legislature last week promises to clean up Albany once and for all. Then again, so did the ethics reform laws of 2010, 2007, 2005 and 1987.
Despite all those reforms, Albany remains about as well '€œcleaned up'€ as the typical 12-year-old's bedroom. A study by Citizens Union found that as Albany produced its series of ethics reforms, it was also bidding farewell to a startling number of politicians who were forced out of office because of ethical or criminal misconduct. Between 2005 and 2010, 13 legislators left office because of alleged or proven wrongdoing. One of every 11 state legislators who departed since 1999 did so because of ethical misconduct or criminal charges.
If you think this shows that legislative ethics enforcers are doing their jobs, you are sadly mistaken. The study notes that the Legislature itself has actually only removed one member, Sen. Hiram Monserrate, for wrongdoing in the past 90 years. The rest of the disgraced lawmakers were investigated and charged by other bodies.
The current reform, like most summer remakes, offers little that is genuinely new.
The law, known variously as the Public Integrity Reform Act of 2011 or the Clean Up Albany Act of 2011, creates a new investigative body to '€œoversee and investigate compliance with the financial disclosure and other ethics requirements by executive and legislative employees and elected officials in both branches of government, and to oversee the conduct of registered lobbyists,'€ as the official summary puts it. The new Joint Commission on Public Ethics will subject '€œall legislators and legislative employees to [the] investigative jurisdiction of a unified, independent body.'€
Independent oversight would be a good thing, but the Joint Commission on Public Ethics will not be independent. As  a result, it will most likely provide little oversight.
No one who has been a legislator, a statewide office holder or a lobbyist in the previous three years, or who has been a state officer or employee in the previous year, will be eligible to serve on the commission. The restriction sounds nice but means little.
Eight of the committee's 14 members will be selected by legislative leaders, four from each major political party. The other six will be appointed by the governor and lieutenant governor, who must choose at least three people from the political party opposite to their own. For any investigation to be launched, not only must a majority agree, but that majority must include at least two members from the same party and branch of government as the potential subject of an investigation. This will allow members of the commission to protect the people who appointed them. And, this being Albany, we can expect such protection to be the norm.
On the bright side, the arrangement will offer New York schoolchildren yet another practical application for their Latin lessons on the meaning of quid pro quo.
In another perfunctory nod to real reform, the law addresses conflicts of interest for lawmakers who also work as attorneys. Since state legislators are, allegedly, only part-time employees, many hold other jobs, including representing clients in legal cases involving the state. Under the new law, lawyer-legislators will be required to disclose the names of clients they represent in cases involving proposed bills or resolutions, state contracts or state grants. One might think such disclosure would have been required long ago, or that lawmakers would simply be barred by legal or legislative rules from having such conflicts of interest in the first place. In some jurisdictions that might be true, but we are talking about Albany.
Again, the ballyhooed new law falls far short of having real meaning. Legislators must disclose clients' names only if the legislator '€" not his or her law firm partners '€" provides the legal service or referred the client to the firm. This sham does not even pass the giggle test. Upon taking any new client, virtually all reputable law firms conduct a conflict check, to see whether any lawyer in the firm represents a client with a conflicting interest. Legal ethics require such checks to avoid impermissible dual loyalties, as every attorney in the firm owes fiduciary duties to every client in the firm. Moreover, law firm partners typically share in all of the firm's profits. Only in Albany would a so-called conflict of interest rule disregard the profession's principles and treat each legislator-lawyer as though he or she were a solo practitioner.
Away from Albany, there are some proposals for genuine reform. Edward Koch, a former New York City mayor, founded NY Uprising to advocate for anti-corruption measures. Former New York City Mayor Rudolph Giuliani and former Gov. Mario Cuomo are trustees. However, the organization has come to focus on the single issue of gerrymandering, dedicating nearly all its energy to fighting for the creation of an independent redistricting commission.
While having competitive political districts would doubtless improve the political and ethical climate in the so-called Empire State, fixing the redistricting process is far from enough to fix New York's government.
No matter where district lines are drawn, they only matter to those who manage to get on the ballot in the first place. In New York, that pretty much limits the field to party-approved regulars. The state's signature and other ballot access requirements are so onerous and arcane that party lawyers can usually get challengers disqualified on technicalities.
Even when the leadership is not able to dictate the ballot, there's generally not much chance of anyone other than the party favorite emerging from the primary. New York holds its primary elections on weekdays, when most people have more pressing things to do, like making a living. Forget about modern innovations like early voting, mail-in ballots and, Heaven forbid, the great equalizer known as the Internet. The age-old system keeps voter turnout low enough so that a small handful of the party faithful can control the vote, which is the point.
On the off chance that an individual with a spark of independence makes it to Albany, the rules there are designed to quickly squelch that non-conformist spirit. Legislators' pay varies widely based on the number of committee assignments and leadership posts the legislator holds. Those honors are handed out by party leaders, who keep close tabs on how legislators vote. In Albany, lawmakers in both houses and from both parties do exactly as they are told, except in the rare cases like this week's tussle over gay marriage, where party leaders might permit some independence. The current system will never produce real reform because the people who control the system have no interest in really changing anything.
New York needs to go back to the drawing board. Fortunately, the New York State Constitution provides a way to do that. Every 20 years the public is given the chance to vote to convene a constitutional convention.
The last time the question '€œShall there be a convention to revise the constitution and amend the same?'€ appeared on the ballot, in 1997, voters decided against holding the convention. Some opponents claimed that the Legislature could make the necessary changes on its own. Others argued that a convention would just be dominated by the same set of Albany politicians as the standing government, and would therefore be doomed to failure from the start. Still others worried that they might lose parts of the Constitution they liked, such as the '€forever wild'€ provision that protects the Adirondacks and other open space. For their various reasons, the AFL-CIO, the Conservative Party, the Sierra Club, the National Abortion Rights Action League, Change New York (an anti-tax group), and legislators of both parties all opposed the convention. Now it should be clear that this opposition was a mistake.
A new constitution could impose term limits for legislators, provide straightforward procedures for ballot access, mandate that all lawmakers receive the same compensation, and accomplish Koch's goal of establishing an independent process for redistricting. Only through such wide-reaching, basic reforms will New York ever be able to achieve any true measure of public integrity.
If New Yorkers want good government, they need to recognize that it is not going to come out of Albany. Good government will need to come from a good constitution, and that will need to come from the people.
Larry M. Elkin is President and Founder of Palisades Hudson Financial Group LLC.