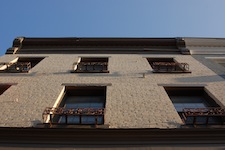 by Carlo Pellegrini
Nyack Chamber of Commerce Board Member Carlo Pellegrini comments on the Orangetown Police Department's intended purchase of a decibel meter as a tool to measure and curb late night noise on Main Street.
In every town, in every village across the world, there is another code…it is an unspoken, unwritten one called 'A Good Neighbor' code. It's like an insurance policy that everyone in that village or town contributes to, with intention, attention and with money. The policy says that everyone (everyone) in that village will take the responsibility to ensure that the community is safe and habitable and enjoyable for all persons whether they live here, do business here (or both) or are simply visiting. It is a good policy and a reasonable one.
But there are three sides to every story (mine, yours and the truth), and this is where we are getting into conflict in downtown Nyack: there is the businesses side in question (the loud ones), there is the village trustees and police side, and then there is the truth: at the end of the day, the bottom-line is that businesses downtown have a responsibility to the community and to the other businesses in their area to be 'good neighbors'.
How we all define 'good neighbors' seems to be the question; it seems to collide with the right (privilege) to operate a business in a loud manner. Well, sometimes you need a judge or a facilitator to help each side see the other's. I recommend that each business owner downtown get together with every other business owner downtown and with The Chamber of Commerce to have a pow-wow about what they ALL can do to be good neighbors to each other and the community. This is the measure of good neighbors…the only meter we need.