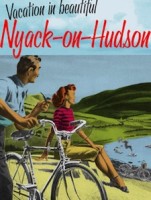 If he had residency, there's no doubt that the author of The Smoking Nun could run for mayor.
The "pop culture with a saucy slant" blog offered up three posts which our own Chamber of Commerce would be hard pressed to beat when it comes to your basic Nyack booster-ism.
We took a spontaneous right turn and ended up in beautiful Nyack, N.Y., a quaint, historic 1.6 square mile village in Rockland County on the western shore of the Hudson River. The town is so small that walking down the street, we met Mayor Richard Kavesh, a proud Democrat.

Nyack has two main drags: Broadway, marked by scores of restored Victorian homes (the village was incorporated in 1883) and Main Street, lined with local retailers, galleries, restaurants and government buildings. Let's take a walk, shall we?
The posts are crammed with great photos and local references: Christophers, Art Walk, The Skylark (sorry, I guess The Nun hasn't heard about the Johnny Cakes name change yet), Long Island Drum Center of Nyack, the YMCA, Koblin's, McManus Pharmacy, Hopper House and the former Rockland Cleaners. It's worth the click just to see that iconic 30's (?) promotional poster, "Vacation in Beautiful Nyack On Hudson."
The blogs are located at "chucktaylorblog.blogspot.com." Who knew that in addition to making basketball shoes, Chuck Taylor was a fan of Nyack, too?