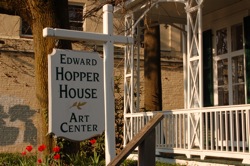 Nyack's "Year of Edward Hopper" celebration was recognized twice this week by the New York Times. On Wed, Francis X. Cline penned Shadowing the Reclusive Painter of Light followed by  an Arts/Westchester article Celebrating Hopper, A Favorite Son on Friday.
Nyack is proud to get the recognition — and certainly the members of the Hopper House Art Center are happy for the publicity as they celebrate their 40th anniversary. But the articles raise two questions:
It's all about the light: Hopper's mastery of light and dark is why he's still a favorite of painters, photographers and art fans worldwide. Seeing some of Hopper's best works in the home and the village in which he grew up — and then walking outside and seeing the late day sun cast the same shadows that Hopper saw growing up — is what makes it all special. It's an important point that was missed in these pieces.
Friday's article ran under the heading "ARTS | WESTCHESTER." Which leaves locals wondering: now that the NYT has officially moved Nyack to Westchester County, will we have to pay higher taxes?
Sources: Shadowing the Reclusive Painter of Light, Celebrating Hopper