by Dave Zornow
It's "A Year of Edward Hopper" in Nyack. And although many of the realist painter's works are now on display at The Hopper House, some of the most interesting Hopper-esque work can be found outside, every day on the streets of Nyack.
The current exhibition at the Hopper House, "Prelude: The Nyack Years" features paintings by the Nyack native who grew up to be a world famous artist. The exhibit runs through July 17, showing 18 of Hopper's works on loan from the Whitney Museum of American Art and the Arthayer R. Sanborn Hopper Collection Trust.
Carole Perry, Executive Director of the Hopper House says that Hopper is still around — at least in spirit. "We can still see Hopper in the shafts of morning light that cut through the windows in the front parlor of the Hopper House," she says. "How inspirational this must have been for him. We need to keep that legend alive."
According to Hopper House Program Manager Rachael Solomon , the exhibit is attracting Hopper fans from near and far. "We've had many tour groups come through, most recently including a group from North Carolina." Solomon says many people from Rockland, Bergen and Westchester are visiting Nyack and the exhibit who may have not have previously had a reason to visit the village.
Most of us can't handle an artist's paint brush — but virtually everyone has used a point and shoot camera. Hopper's unique use of light speaks to photographers in their work. "While the painter can certainly edit and recompose images from a number of actual scenes, Hopper's use of light and composition are truly photographic adding to the overwhelming popular appeal of his work," says professional photographer and educator  George Potanovic, Jr. "From his childhood home,  young Edward could clearly view the early morning light reflecting from the river up 2nd Avenue and into his bedroom window." Potanovic says light reflected from the Hudson River reflects in ways that are unique to our area. "As a young photographer, growing up in the Hudson Valley, the quality of light has had a significant affect on how I look at subjects. Light is indeed the essence of the subject for many photographers. In fact we are "seeing" and photographing the light even before we see the subject," he says.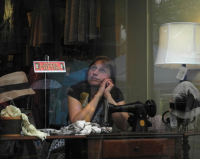 Kris Burns is taking Hopper to the streets of the village in a series of public art demonstrations called HopperHappens. "The long shadow on a red-brick storefront, the saturated blue sky behind the roof turret of a white-frame house, the sailor's breeze ruffling the Hudson'€¦wherever you walk in Nyack, Hopper happens," says Burns, the Hopper Happens Festival Coordinator. Planned events include '€œHopper Moment'€ installations created by local artists, set designers and students in Nyack storefront windows and "flash mobs" where groups of people suddenly assume Hopper-esque poses simultaneously at a location in the village. Burns says there will also be outdoor slide-shows reflecting Hopper's vision and original short films by local artists projected on public walls.
"Making art is being private in a public place," says Burns. "Hopper captured that sensory experience — that's why he is still so relevant," she says.
The "Edward Hopper, Prelude: The Nyack Years" is on display at The Hopper House (82 N Broadway in Nyack). Exhibit hours are Tuesday-Sunday from 11a-5:45. Tickets can be purchased online in advance for $15 with discounts available for seniors, students, children and groups. Tuesdays from 10-10:45a, for seniors and Wednesdays from 5-6p for the general public are free on a first-come, first-served basis.
See also: