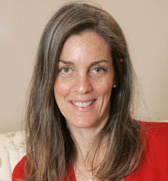 By Tina Traster
I was just about to hit the spam button when I took a closer look at the e-mail subject line: '€œLocation Scout for HBO.'€ I opened the e-mail and saw that it was for real. Someone named Susan said HBO was looking for a farmhouse for a new pilot starring Tea Leoni and Hope Davis. Having read my Burb Appeal column, she said, she thought my 150-year-old farmhouse might be a good fit.
Remember the movie '€œIndecent Proposal'€ when Demi Moore sleeps with Robert Redford for $1 million? That's how I felt. An HBO shoot for a week can net $20,000, plus relocation fees. I could pay down debt, plump up my daughter's college fund, build a little writing studio on my property. Oh, the euphoria of such unexpected treasure!
Then my husband reminded me that I am the most territorial human on the planet. '€œHow in the world will you be all right with a film crew taking over the place?'€ he asked. I took a deep breath and tried to imagine my husband, daughter and I, plus our five cats, relocating to an apartment for a week. It's been nearly six years since we've lived in a confined space together. But, hey, for that amount of money, I figured we could cope. '€œWho will take care of the chickens?'€ my husband continued. Another good point. '€œWe'd have to make a provision to have access to the property during the shoot,'€ I replied. There was actually something appealing about having our house used for a television series.
After all, the house has been an inspiring character in my own drama these last several years '€" and the muse for this column. My house has always been more than a house. It has defined and shaped me, just as I rescued and redefined it from ending up in a construction heap. I constantly feel swept up in its long history and excited about being the author of its new chapter. I e-mailed the scout to come the next day.
I had a restless night, tossing and turning over the thought of an army of camera people, lighting, actors and caterers commandeering my lair. Would they use our refrigerator, our bathrooms, our furniture? What if a klieg light caught fire and burned down the house? What if they wanted to paint the walls? (Come to think of it, the walls could use a paint job.)
The following morning dawned, a beautiful spring day. I puttered around the house fluffing pillows, straightening pictures and opening the windows to let the light stream through. Around 11 a.m., the house looked picture-perfect, thanks especially to the 200 newly opened tulips lining our driveway. But in a Dorothy-We're-Not-In-Kansas-Anymore moment, the sky turned black, trees bowed, torrential rains turned the soil to mud. Even the tulips closed and hung their heads like pallbearers at a funeral procession.
Susan the scout texted me to say she'd pulled over on Route 59 because of a tornado warning. This must be an omen, I thought. About 90 minutes later, the storm subsided and a perky, reed-thin woman rang the doorbell. She shook off the rain and came inside. I told her about the house. She told me about the pilot: Tea Leoni and Hope Davis play high-octane New York City fashion divas. One drops out for a stab at the hippie life in an old farmhouse. I was secretly hoping it was Hope because I could see her '€œliving'€ in my house. Then, Susan explained, something tempts her back to the city and she struggles with the conflict.
'€œInteresting plot,'€ I said. '€œA little like my own story except nothing could lure me back to the city.'€ Susan and I continued to chat as she walked around the house snapping pictures. She especially liked the vaulted ceilings in our bedroom and the antique claw-footed bathtub.
Before she left, she gave me a few things to think about. The shoot would take about a week. They would want the house in two weeks. A film crew could be as large as 100 people. We would not have access to the property during the shoot. If they wanted to paint the walls a different color they would, but they'd repaint them back to the original color afterward. She must have seen my Linda Blair moment because I'm sure my head spun a full 360 degrees. '€œThis is not for everyone,'€ Susan said. '€œThe money's great, but you really need to be able to relinquish control. When these crews come to your house, they don't think of it as your house, they think of it as their set.'€
With that, we wrapped up the meeting. She told me we'd get a call within a week if HBO was interested in our house. I closed the door and bolted it. Paying down debt was a nice fantasy, but I wasn't game for an indecent proposal.
Tina Traster writes the New York Post's '€œBurb Appeal" column and the '€œThe Great Divide'€ at HuffingtonPost.com. '€œBurb Appeal: The Collection,'€ a set of Tina's columns and articles, is now available in print and as an eBook at Amazon.com.