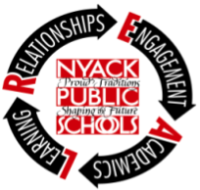 Nyack, May 17 — Today's school budget and trustee vote is all about the numbers: 2 in 10,  3 of 4, 60 and 100.
Less than two in ten registered voters are expected to go to the polls and choose three trustees from four school board candidates. Voters will also vote yea or nay for a $71.3 million budget which accounts for 60 percent or more of the average homeowner's tax bill. What's the 100? The chance of rain forecasters predict for Tuesday.
Polls open at 7a and close at 9p. Visit NyackSchools.com to find out where to vote.
We can't stop the rain for pull the lever for you (not to mention that voting booths no longer have those kind of levers anymore). But we've tried to organize everything you need to know about the candidates and the budget in one convenient place.
The Budget: Voters will be asked to approve a 2.9 budget percent increase. That's more than last year (1.9 percent) and higher than the proposed two percent tax cap advocated by Governor Cuomo. Still, many parents argued for higher taxes and fewer staff cuts while the school board struggled to keep the tax increase under three percent. "Hard choices were made between our wants and needs and unfortunately that involved having to part with some of our valued staff members," writes Interim Superintendent Jason Friedman and School Board President Michael Lagana in the administration's StraightTalk budget newsletter. You can find the budget detail by spending category online at NyackSchools.com.
Visit NyackNewsAndViews 2011 School Board Candidates page for information provided by each candidate as well as endorsements from their supporters.
For additional information on the candidates, check out these other online resources: